TSD 3: Fr. Fournier and the Meaning of Reality
What we can't see is sometimes more real than what we can
It has been observed that Fr. Jean-Marc Fournier somehow manages to look 100% French, 100% a firefighter, and 100% a priest.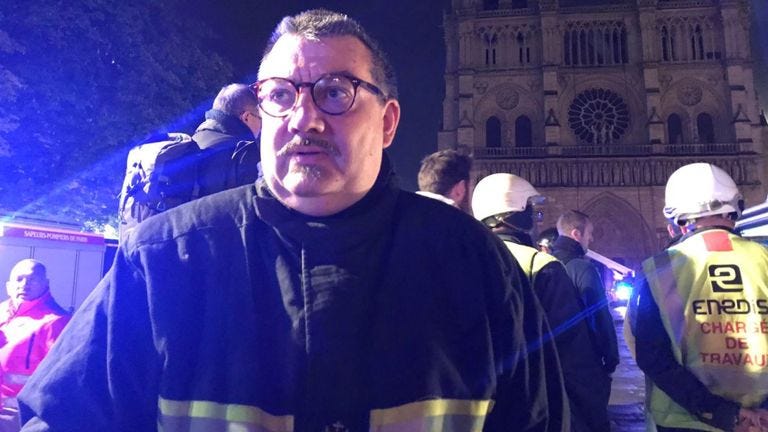 The chaplain of the Parisian sapeurs-pompiers, Fr. Fournier led the team of firefighters whose job it was to secure the most precious items of Notre-Dame: the relics (including the circlet of the Crown of Thorns), the artwork, and, of course, Christ Himself in the Blessed Sacrament. In this task, they were wonderfully successful.
Firefighting is an eminently practical business. The first rule, Fr. Fournier told reporters, is: "Always be on the move, or else you die." And yet, while the cathedral's roof melted above him and scorching embers fell, the priest performed a brief Benediction of the Blessed Sacrament, entrusting the preservation of the church to Christ. "I asked Jesus — and I really believe he is present in these hosts — to fight the flames and preserve the building dedicated to his mother." The reality of the fire was not to be ignored, but Christ is Reality Itself. Not to tend to Him and not to trust Him would be, well, impractical.
This same supernatural vision served Fr. Fournier well in another tragedy, when he is said to have entered the Bataclan theater, which had been stormed by terrorists, to give a general absolution to the victims. Machine guns are real, but sacramental grace is more so.
And so, when we think of "practicality" and "realism," let's remember not to consider them only on worldly terms. Prayer and liturgy and the sacraments are practical because grace is real and because God is Reality. When we testify to that reality with confidence, even as we might seem foolish in worldly terms, we do more to witness to Christ than a million "realist" stratagems can match.
These Seven Days…
…in the Ordinary Form
It is Easter Sunday. The traditional Paschal Greeting on this day and throughout these eight days begins, "He is risen!", followed by, "He is risen, indeed!" This is based on teh exclamation of the Apostles in Luke 24:34: "The Lord has risen indeed, and has appeared to Simon!" In sharing this greeting, we participate in a small way in the joy of the men who knew Jesus in His earthly life, and we bring the reality of His resurrection to our modern world.
We could spend the entire newsletter on the Easter Vigil, so let's look instead at Easter Sunday Mass. The readings are Acts 10:34a, 37-43, Colossians 3:1-4 (or 1 Corinthians 5:6b-8), and John 20:1-9. Between the Epistle and the Gospel, the Sequence Victimae Paschali Laudes will be sung. This is one of the few remaining sequences, which used to precede the Gospel at several feasts throughout the year.
The English translation is awkward (according the the Catholic Encyclopedia the Latin has defied easy translation from the beginning), but this line from the version used in U.S. parishes is especially striking:
Death and life have contended in that combat stupendous:
The Prince of life, who died, reigns immortal.
It is in dying—in giving up one's life in innocence—that life wins its contest with death. This is the Deep Reality (the "Deep Magic" in C. S. Lewis's telling) that confounds worldly logic and rebukes every human attempt to achieve immortality on our own.
---
The rest of the week is Easter Week, each day of which is a solemnity. This means that Friday, April 26, is not a day of abstinence from meat or other penance.
Tuesday, April 23, would normally be the feast of both St. George, patron of England, and St. Adalbert of Prague, patron of Czechia and Poland. St. George has been the beneficiary of perhaps the most diverse and incredible collection of legends in Christendom, including of course his slaying of a dragon. The most that can be said with any confidence is that he "suffered at or near Lydda…in Palestine, probably before the time of Constantine." Given the universality of dragon stories across time and civilizations, however, I see no reason not to think that dragons were an affliction God saw fit to send to earth only for a particular time in human development.
Players of the classic board game Masterpiece will recognize fifteenth century Catalan painter Bernat Martorell's depiction of St. George slaying the dragon.
---
St. Adalbert was a tenth century missionary to Eastern Europe, where he was martyred in 997. He is said to have been the author of the earliest Polish hymn, Bogurodzica, or "Mother of God."
St. Adalbert is also the patron of one of my favorite lesser-known churches in Pittsburgh, tucked into the densely-packed South Side neighborhood.
The extraordinary (and expensive) marble altars, like the rest of the church, were paid for by the working-class Polish immigrants of the South Side.
…in the Extraordinary Form
It is, of course, Easter Sunday. Resurrexit sicut dixit! He is risen, as He said! This exclamation is taken from the Regina Coeli, which is the Marian antiphon prescribed for Eastertide. Much of the hymn is said to have been given to St. Gregory the Great by angelic inspiration.
This antiphon will replace the Angelus for noon and 6pm recitation until Pentecost. It will also serve as the Marian antiphon at the end of the Rosary and during Compline in daily offices, including the Little Office of the Blessed Virgin Mary.
---
The readings for Easter Sunday (we will skip the Vigil here as well) are 1 Corinthians 5:7-8 and Mark 16:1-7. The same sequence, Victimae Paschali Laudes, will be sung. In the old rite, though, it will be included at each Mass throughout the week.
The Collect reads as follows:
Deus, qui hodiema die per Unigenitum tuum, aeternitatis nobis aditum, devicta morte reserasti: vota nostra, quae praeveniendo aspiras, etiam adjuvando prosequere.

O God, who on this day, through Thine only-begotten Son, hast conquered death, and thrown open to us the gate of everlasting life, give effect by Thine aid to our desires, which Thou dost anticipate and inspire.
Note especially that last line: "which thou dost anticipate and inspire." In this simple and beautiful prayer, we are reminded that even our desire to do good is first inspired by the Lord and won by the merits of the Cross. Nothing good we do is disconnected from Christ and the drama of these days.
---
The Octave of Easter will extend through next Sunday. Friday abstinence is also superseded.
Thursday, April 25, is the Greater Rogation Day. Rogation Days are "instituted by the Church to appease God's anger at man's transgressions, to ask protection in calamities, and to obtain a good and bountiful harvest." Fasting has not been observed on Rogation Days for some time, but they retain a certain penitential air, as we beg God's forbearance.
Traditional observation included public processions accompanied by a special Litany of the Saints, which can be found here, along with other prayers for celebrating the day.
Those Seven Days…
…in Catholic Twitter
National Review writer Michael Brendan Dougherty makes a threat:
Gladden Pappin, a professor at the University of Dallas, argues for a past we've all forgotten:
Stations of the Cross in congregation: annual reminder that pews are a passing (albeit multi-century) fad inimical to Christian worship
Fr. Darin Schmidt observes something that I've noticed myself: Fears of a "one-world religion" are quite strange given Christ's commands—and the reality of the Catholic Church:
JD Flynn gives us a target to strive for with our own children: that they will recognize the deep reality and meaning of Christ's Resurrection from an early age:
That Jesus died and rose again has been the most important thing in my life since I was 8 years old. Have I always lived like that? No. Have I betrayed him? Yes. Have I cursed him? Yes. Have I doubted him? Yes. Has he always welcomed me back to the freedom of his love? Yes.
And maybe the most beautiful thing to come out of the Notre-Dame conflagration (click through for video):
Ave Maria https://t.co/lb6Y5XV05a
…in the Content Mines
Matthew Walther observes that Notre-Dame was already, in secular Europe, a tragic shell of its former glory—and yet its true meaning is always at hand, ready to be rediscovered.
Meanwhile, Haley Stewart delivers a moving personal reflection on watching the cathedral burn in light of the Easter we know is to come.
The Canadian theologian and humanitarian (in the most wonderful sense of that word) Jean Vanier, who founded an international network dedicated to serving the disabled, has entered the very twilight of his life.
And John Wilson writes about confidently embracing the reality of Heaven.
Feedback, &c.
Did I miss something important? Get something wrong? Do you have ideas for how to improve These Seven Days? Drop me a line at tsd.brandonmcg@gmail.com. This is a work in progress, and your feedback will help to make it the best it can be.
And if you enjoyed this, please forward it along to friends. Make sure you subscribe so you don't miss a week of These Seven Days.