The Prodigal Church
A TSD Book Announcement
I'm sorry to have stopped producing the newsletter without warning. It wasn't the plan, but one week (going into Holy Week) I didn't get around to it, and thus the habit that had carried me through an entire year of these was broken. Combined with all the other changes to our habits amid the pandemic, it just never got back on my radar.
I'm back today, though, with a happy announcement: My first book, The Prodigal Church, is available for pre-order and will be shipping to readers in the next few weeks!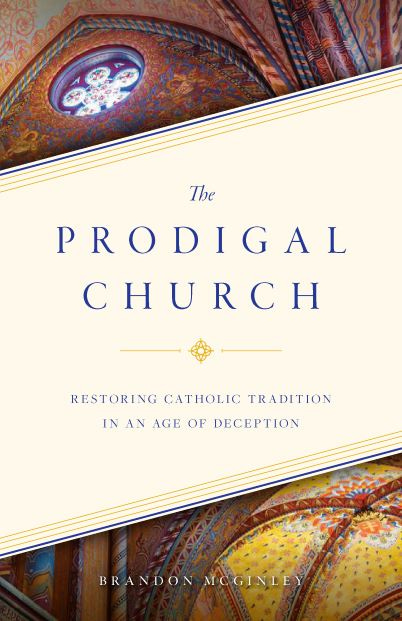 Pretty snazzy, imho.
The idea behind The Prodigal Church is that we need a clear-eyed but hope-filled vision for what the Church can be in our time—and that this begins by understanding what the Church, the community, and the family really are in God's design. The book is honest about the struggles of the past few generations without obsessing over them, and creative in crafting a vision for the future that's anchored in tradition and open to authentic innovation.
Here's what others are saying:
This book is as clear-eyed about the past as it is about the future. McGinley draws from history so that we can learn from the saints' successes. But he applies those lessons to the future in ways that are fresh, realistic, and astonishingly creative. There is no other book like this. I hope many readers will take it to heart and take it to prayer.

Mike Aquilina
McGinley paints the challenging landscape of the modern Church with honesty and clarity. But this book is about more than the challenges we face, it is a brilliant and insightful examination of what the Church can be. No book is more effective at communicating what we must recover, ways to innovate, and how we must act in order to have a thriving Church in the 21st century. McGinley never falls into cynicism nor mere wishful thinking, but bases his vision in what we can anchor our hope for the future in: the grace of God.

Haley Stewart
The Prodigal Church is an essential intervention from one of our most exciting young Catholic commentators, offering both a forceful critique of the bourgeois spirit in American Catholicism and a practical, humane blueprint for renewal.

Sohrab Ahmari
You can pre-order The Prodigal Church from Sophia Institute Press right here.
I'll keep the newsletter open for now, in case it's something I decide to come back to, perhaps in a different form. I've found that I've been less aware of the liturgical calendar since I stopped writing it—rarely knowing whose feast it is and so on—so it's absolutely possible I'll pick it up again, if the various other things going on in my life permit it.
For now, though, I'm focused on getting this book out there, and a few other projects. Thanks for your support of TSD, and I hope you'll give The Prodigal Church a look! And I'll be back in touch when events warrant it.