TSD 10: Riding It Out
Turbulence on the I-95 of life...or something like that
I'm preparing today's TSD in rainy Richmond, Virginia, where we're spending the weekend with my in-laws. Getting here yesterday evening was…memorable.
My view today. I love the tall, spindly pines that thrive in sandy Southern soil.
Our two-year old, usually perfectly content in the car, never fully settled in and spent much of the six and a half hours crying and yelling. The four-year old had a growing pains episode at the same time as one of the two-year old's fits, and of course the baby joined in, all on the Washington Beltway.
Then the engine light came on, which shouldn't have worried me that much, but it brought back memories of a time on the Ohio Turnpike when that light started blinking (a much worse signal—strange how large the chasm in meaning between a solid and blinking light can be) and I had to be towed to Sandusky. I did not want to be towed at night on I-95 with four unhappy children.
Then we had a brief downpour, and the windshield wiper passenger blade, which I had suspected for months had been improperly installed but hadn't gotten around to fixing, flew off the car. The metal arm proceeded to scrape against the windshield making a ghastly noise, and I feared it might do permanent damage.
By the time we pulled into the driveway after midnight, the hours of tension left me feeling like I'd done a core workout.
I don't have some wise spiritual lesson to deliver about all this. My wife and I did pray the rosary, which alleviated the tension a bit, but that was before the wiper blade took flight. I tried to entrust our safety and sanity to God and His angels, and it felt good to do so, but it wasn't some kind of a spiritual breakthrough.
I will say this, though: When we arrived and settled in, everything quickly not only felt better, but was revealed to be not as serious as feared. These things pass, and our fears (especially at night…in the rain…on I-95) have a way of running away with us. Sometimes it's as simple as riding it out and having a good laugh, a good sleep, and maybe a good drink on the other side.
And then thanking God and those angels for seeing you through the turbulence.
These Seven Days…
…in the Ordinary Form
It is Pentecost. The readings for this feast vary between the Vigil and the day itself, including an option for an "extended vigil" with four Old Testament readings before the Epistle and Gospel. We will focus on this Sunday's Mass: Acts 2:1-11; 1 Corinthians 12:3b-7, 12-13 or Romans 8:8-17; John 20:19-23 or John 14:15-16, 23b-26.
The one reading you will be assured of hearing this Sunday is the Pentecost narrative itself in Acts 2. On the sudden ability of the people to speak and to understand their native tongues, the Haydock commentary makes a beautiful observation, referring to St. Augustine:
The same Father observes, that the conversion of all nations to the Church, and their being united in one faith, all having one language or confession, is a perpetuation of the same miracle in the Church.
The Faith is not just a collection of beliefs to which we assent, but the language and grammar of reality itself. Let us be emboldened by this feast to bring that communion with reality to others.
Pentecost, by the 18th-century French painter Jean II Restout.
---
The Pentecost liturgy features one of the four remaining "sequences" in the Latin Rite: the Victimae pascahli laudes on Easter Sunday, Pentecost's Veni Sancte Spiritus, the Lauda Sion Salvatorem on Corpus Christi, and the Stabat Mater for Our Lady of Sorrows. There will be more about the Pentecost sequence in the section on the Extraordinary Form.
The old Catholic Encylopedia has an intimidatingly detailed entry on the historical and liturgical development of the sequence, which is intoned between the Psalm and the Gospel. Wikipedia graciously provides a pared down but still authoritative account:
In the Latin Mass of the Middle Ages, it became customary to prolong the last syllable of the Alleluia, while the deacon was ascending from the altar to the ambo, to sing or chant the Gospel. This prolonged melisma was called the jubilus, jubilatio, or laudes, because of its jubilant tone. It was also called sequentia, "sequence," because it followed (Latin: sequi) the Alleluia. Notker set words to this melisma in rhythmic prose for chanting as a trope. The name sequence thus came to be applied to these texts.
Sequences seem to me to be among the hardest texts to translate, especially into a rhythmically clunky language like English. These are, for me, the best stanzas in the translation used at Mass:
You, of comforters the best;
You, the soul's most welcome guest;
Sweet refreshment here below;
In our labor, rest most sweet;
Grateful coolness in the heat;
Solace in the midst of woe.
Titian, 16th century. The dove, the expressions, the poses—this is a less frightening depiction than Restout's, above.
---
Thursday, June 13, is the feat of St. Anthony of Padua. Known and loved around the world for his helpfulness in finding lost objects (Tony, Tony, come around / something's lost that can't be found!), Anthony was one of the fastest saints to be canonized in the history of the Church, having been raised to the altars in May 1232, less than a year after his death. While associated with Italy, this was due only to an accident of weather (or, one supposes, Providence): He spent most of his life in Portugal, where he is still popularly venerated, but was blown off course to Sicily during a voyage from Morocco.
St. Anthony was known during his life for his learned and eloquent preaching, and for effecting more miracles than we could possibly list. Perhaps the most famous, but not the most well-attested, was the apparition of the Child Jesus to the saint while he read, which explains the popular depiction of Anthony with an open book and the Christ Child. Anthony was also no stranger to civil affairs, agitating successfully for reforms in favor of debtors in Padua. Here is just one example of Anthony's spiritual work:
The last Lent he preached was that of 1231; the crowd of people which came from all parts to hear him, frequently numbered 30,000 and more. His last sermons were principally directed against hatred and enmity, and his efforts were crowned with wonderful success. Permanent reconciliations were effected, peace and concord re-established, liberty given to debtors and other prisoners, restitutions made, and enormous scandals repaired; in fact, the priests of Padua were no longer sufficient for the number of penitents, and many of these declared they had been warned by celestial visions, and sent to St. Anthony, to be guided by his counsel.
Not a bad day's work. He died on June 13 of that year.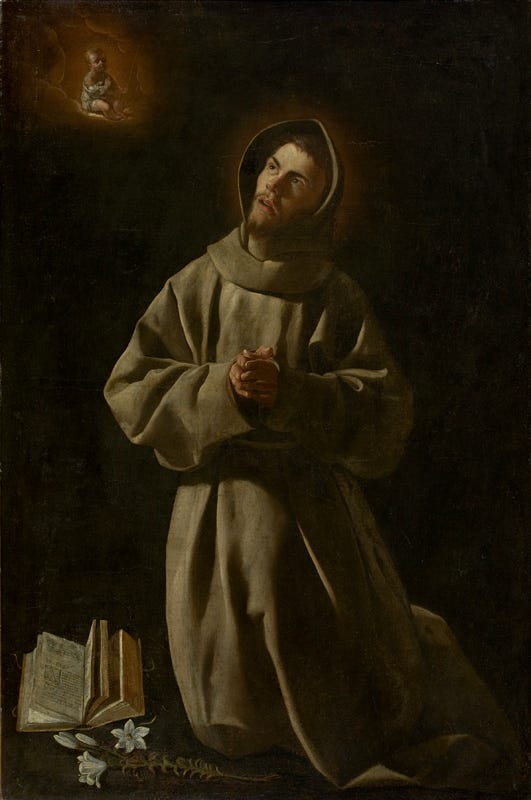 I try not to use the Wikipedia featured images here, but I am so taken by Anthony's face—realistic, recognizable, even modern—which contrasts sharply the angelic countenance and sharp tonsure we are used to seeing on him. This 17th century portrayal was created by Francisco de Zurbarán.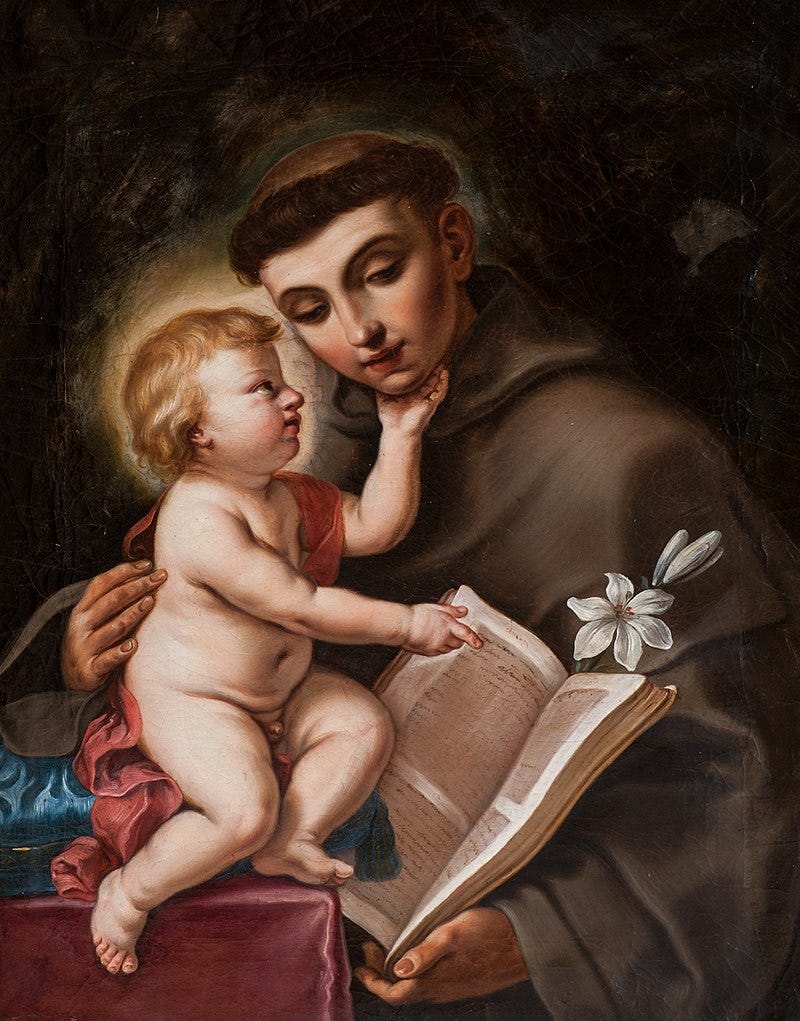 A more typical depiction from the same era: Elisabetta Sirani, 1656.
---
…in the Extraordinary Form
It is Pentecost. The lesson (rather than the Epistle) is Acts 2:1-11; the Gospel is John 14:23-31. In this reading from John's Gospel we hear the famous words:
Peace I leave with you, my peace I give unto you: not as the world giveth, give I unto you.
"The world" is here contrasted with peace. The teachings and temptations of the world, no matter their promises, bring disorder and violence. But, as St. Augustine says in commenting on this verse…
…there is a peace which is serenity of thought, tranquility of mind, simplicity of heart, the bond of love, the fellowship of charity. None will be able to come to the inheritance of the Lord who do not observe this testament of peace; none be friends with Christ, who are at enmity with the Christians.
---
The sequence Veni Sante Spiritus appears in the Pentecost Sunday Mass and every other Mass through next Sunday. Authorship of what has been called the "Golden Sequence" is contested, but good sources seem to settle on Innocent III. It has come down to us unchanged from the 12th century, having been preserved at Trent, when all but four sequences were suppressed, and having survived all other reforms of the liturgy. So, too, does the chant come down to us:
Innumerable settings of the Veni Sancte Spiritu have been composed through the centuries, but I'm going with a modern one to accompany the ancient one: Arvo Pärt. Unmistakably traditional; unmistakably of our era—my favorite combination:
---
Let's also mention the distinct Preface for Pentecost:
Vere dignum et justum est, aequum et salutare, nos tibi semper, et ubique gratias agere: Domine sancte, Pater omnipotens, aeterne Deus: per Christum Dominum nostrum. Qui ascendens super omnes caelos, sedensque ad dexteram tuam, promissum Spiritum Sanctum hodierna die in filios adoptionis effudit. Quapropter profusis gaudis, totus in orbe terrarum mundus exsultat. Sed et supernae Virtutes, atque angelicae Potestates, hymnum gloriae tuae concinunt, sine fine dicentes:

It is truly meet and just, right and for our salvation, that we should at all times, an in all places, give thanks unto Thee, O holy Lord, Father almighty, everlasting God, through Christ our Lord. Who, ascending above all the heavens and sitting at Thy right hand, poured out on this day the promised Holy Spirit upon the children of adoption. Wherefore the while world doth rejoice with overflowing joy and the heavenly Hosts also and the angelic Powers sing together the hymn of Thy glory, evermore saying:
It is that middle sentence, of course, which is distinct to this day. I love the phrase "children of adoption" here, the reminder that on Pentecost in a special way we remember that we have been, through our Baptism and Confirmation, brought into a genuinely familial relationship with the Creator of the universe. And our duties as such are expressed in that first sentence of the Preface, said at every Mass: It is just to praise and worship Him.
---
Wednesday, June 12, Friday, June 14, and Saturday, June 15, are the summer Ember Days. This edition of TSD is already running a little long, so we'll save a fuller exploration of Ember Days until the fall. It will suffice to say here that these traditional, seasonal days of fast and prayer and penance are making a comeback in our era of crisis: My bishop has recommended that the Ember Days be commemorated at least by clergy, if not also by the faithful. The traditional discipline is fast and partial abstinence: meat at only one of the repasts (one full meal, two collations) of the day.
Prayer before harvesting first fruits. Artist unknown.
---
Those Seven Days…
…in Catholic Twitter
Some happy news from my own timeline:
It was a thrill to take part in this devotion on Tuesday evening. Our five-year old was tickled by the idea of the Knights of Columbus defending the relic with their swords.
Fr. Fish packs a lot of good stuff into these 280 characters:
And since I'm visiting the Diocese of Richmond, it seems appropriate to share these beautiful images of a recent First Mass in the diocese. The times, they are a-changin':
You can follow Fr. Stinson on Twitter at @TheHappyPriest.
---
…in the Content Mines
Matthew Walther has a beautiful review of the moving book Dignity by photojournalist Chris Arnade. I've only had a chance to flip through the images in the book, and they are worth the cost themselves.
The story of the "Broken Mary" statue that headed a public procession of thousands through the streets of Chicago.
Stephen Beale writes on the intrinsic connection between Pentecost and the Eucharist at Catholic Exchange.
In the Catholic Herald's issue on the Sacred Heart of Jesus, Jane Stannus writes on the ceremony of "enthroning" the Sacred Heart in one's home.
As for me…
I have an essay at the Catholic Herald myself—just posted within half an hour of this email, so you all have first dibs. I argue that the strategy of playing nice with liberal, individualistic notions of religion and politics has seeped into our own understanding of the Church, with disastrous effects:
I don't know how to win the culture war, but I do know how to lose the Catholic family. It begins not with contraception or divorce or the LGBT movement, but by tacitly accepting (if not actively defending) the privatization of religion inherent to liberal politics – even classically liberal politics.
Feedback, &c.
Did I miss something important? Get something wrong? Do you have ideas for how to improve These Seven Days? Drop me a line at tsd.brandonmcg@gmail.com. This is a work in progress, and your feedback will help to make it the best it can be.
And if you enjoyed this, please forward it along to friends. Make sure you subscribe so you don't miss a week of These Seven Days.