TSD 15: CAR-mel or Car-MEL?
Celebrating the brown scapular and guillotined martyrs
I typed up last week's shortened These Seven Days right before going on my first ever whitewater rafting excursion. It reminded me of the Apostles on the Sea of Galilee…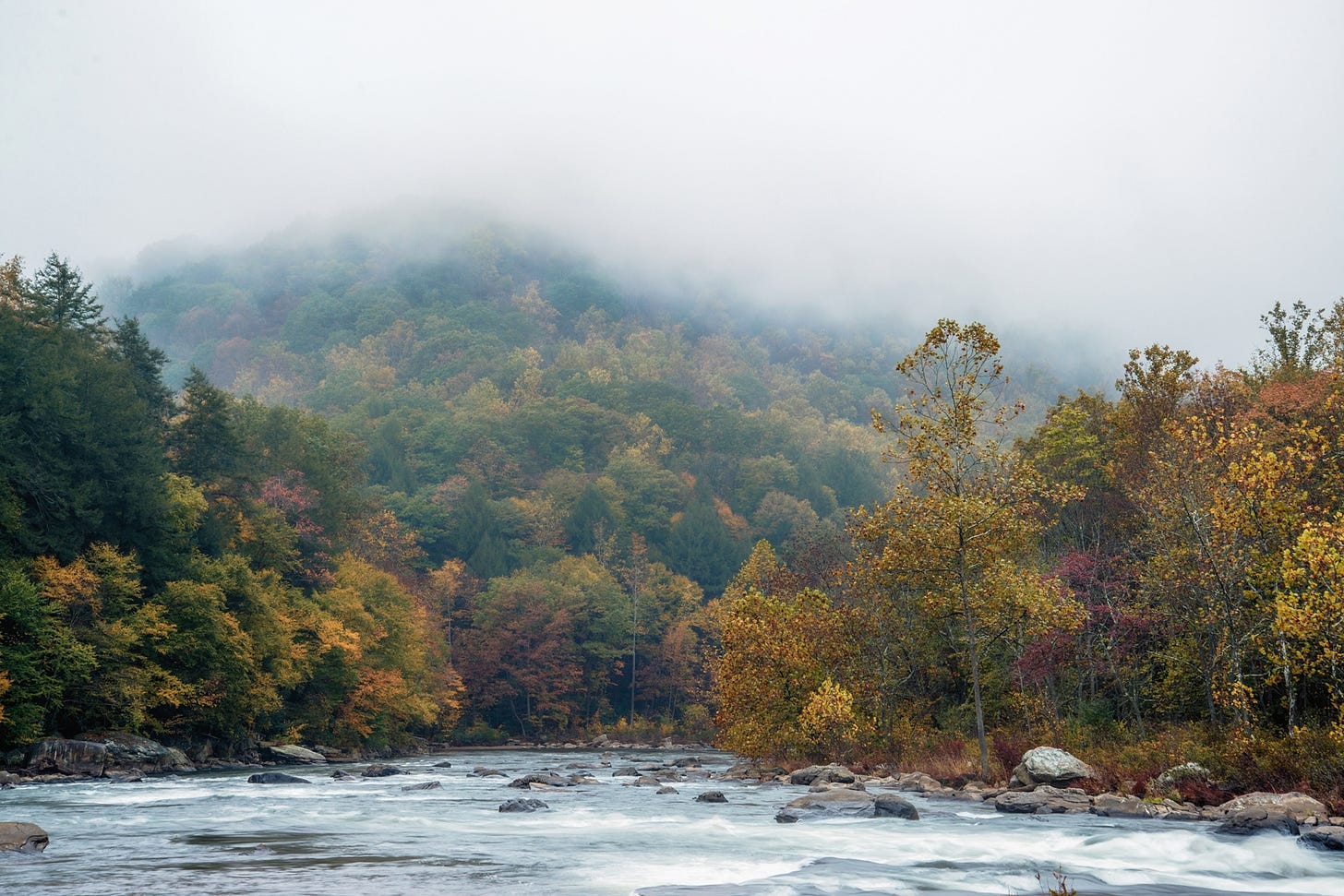 The Youghiogheny River at Ohiopyle is the most popular whitewater east of the Mississippi.
…OK I'm lying. My friends and I prayed a Memorare after putting in to the river, but after that it was all the immediate reality of the gorge and the rocks and the water—my mind was far too preoccupied to consider metaphor.
I talk and write a good deal about the deep reality of the supernatural world, how we cut "realism" off at the knees if we act like the material world is all there is. But we can also dwell so disproportionately on the spiritual realm—turning every surprise into a sure sign from God, torturing metaphors out of every common experience, etc.—that we lose track of the equally real world around us, with its concrete duties and genuine pleasures.
Growing in spiritual maturity, it seems, is about apprehending and living out the integration of the natural and the supernatural, prioritizing our duties and apportioning our attention as prudence demands.
I have only the faintest idea what this means in everyday life, but there it is.
These Seven Days…
…in the Ordinary Form
It is the Fifteenth Sunday in Ordinary Time. The readings are Deuteronomy 30:10-14, Colossians 1:15-20, and Luke 10:25-37.
The readings this week are about the law of God, beginning with the natural law's accessibility to human reason, as Moses tells the Israelites:
For this command that I enjoin on you today is not too mysterious and remote for you. … No, it is something very near to you, already in your mouths and in your hearts; you have only to carry it out.
But in St. Paul we see that this is not the end of the story: The law, as all things do, finds its perfection in Christ:
He is before all things, and in him all things hold together. … For in him all the fullness was pleased to dwell, and through him to reconcile all things for him, making peace by the blood of his cross through him, whether those on earth or those in heaven.
This week culminates with the Good Samaritan, where Jesus demonstrates in a commonsense way how, left to our own devices, the law becomes a stagnant legalism. It is vivified by holiness—that is, by grace:
Which of these three, in your opinion, was neighbor to the robbers' victim?" He answered, "The one who treated him with mercy." Jesus said to him, "Go and do likewise."
The Good Samaritan by Eugène Delacroix (1849), and a copy by Vincent van Gogh (1890).
---
Tuesday, July 16, is the Feast of Our Lady of Mount Carmel, the patronal feast of the Carmelite Order. The date commemorates the pious tradition that on July 16, 1251, the Blessed Mother appeared to the English Carmelite St. Simon Stock and presented him with the brown scapular, and "the object of the feast is the special predilection of Mary for those who profess themselves her servants by wearing her scapular." Originally worn over the entire torso, a smaller representation of the scapular has become one of the most popular devotions among lay Catholics:
The scapular is a Marian habit or garment. It is both a sign and pledge. A sign of belonging to Mary; a pledge of her motherly protection, not only in this life but after death. As a sign, it is a conventional sign signifying three elements strictly joined: first, belonging to a religious family particularly devoted to Mary, especially dear to Mary, the Carmelite Order; second, consecration to Mary, devotion to and trust in her Immaculate Heart; third, an urge to become like Mary by imitating her virtues, above all her humility, chastity, and spirit of prayer.
The Congregation for Divine Worship's full doctrinal statement on the brown scapular can be found here. This feast, originally celebrated only in Carmelite communities, was extended to the entire Latin Church in 1726 by Pope Benedict XIII.
Pietro Novelli's 1641 Our Lady of Mount Carmel features the typical crown of stars and St. Simon Stock, right, receiving the scapular.
---
Wednesday, July 17, is the historical feast of the Martyrs of Compiègne. The first victims of the French Revolution to be canonized, these sixteen martyrs—fourteen Carmelites and two servants—were guillotined in Paris during the last days of the Reign of Terror in 1794. It is well-attested that the nuns renewed their baptismal and religious vows and sang the Veni Creator Spiritus at the foot of the scaffold. Whether, during the procession to the blade, they sang the Salve Regina or the Laudate Dominum (Psalm 117)—or, as the Catholic Encyclopedia reports, "absolute silence prevailed"—is not known for certain.
Regardless, it is Francis Poulenc's Salve Regina with which countless people now associate the martyrdom. Poulenc, a fascinating figure described by a contemporary as "deeply devout and uncontrollably sensual," completed his most famous work, Dialogues of the Carmelites, in 1956. The execution finale is one of the most dramatic moments in all opera—and proof that, indeed, some good did come from mid-century classical music:
---
…in the Extraordinary Form
It is the Fifth Sunday after Pentecost. The Epistle is 1 Peter 3:8-15 and the Gospel is Matthew 5:20-24.
As in the Ordinary Form, the theme of these readings is the expansion and perfection of the law under Christ. On the threefold exhortation in the Sermon on the Mount to avoid not just murder but anger and loose talk, St. Augustine writes:
Here we have three arraignments, the judgment, the council, and hell-fire, being different stages ascending from the lesser to the greater. For in the judgment there is yet opportunity for defence; to the council belongs the respite of the sentence, what time the judges confer among themselves what sentence ought to be inflicted; in the third, hell-fire, condemnation is certain, and the punishment fixed. Hence is seen what a difference is between the righteousness of the Pharisees and Christ; in the first, murder subjects a man to judgment; in the second, anger alone, which is the least of the three degrees of sin.
---
We'll mix things up this week and cover the Offertory rather than the Introit. It comes from Psalm 16:7-8:
Benedicam Dominum, qui tribuit mihi intellectum: providebam Deum in conspectu meo semper: quoniam a dextris est mihi, ne commovear.

I will bless the Lord, who hath given me understanding: I set God always in my sight: for he is at my right hand, that I be not moved.
Dom Johner writes with typical perspicacity about this short verse (p. 265):
In general, the whole chant demands a lively presentation. It is a song of thanksgiving for divine illumination, for insight into God's economy, into the mysterious workings of grace in the individual soul and in the entire Church. It is the joyful song of the pilgrim who sings of his resting place in God; also a song of victory over the enemies of the soul. For since God is with us and in us, how can there be any faltering? Hence we hear nothing of fear or pusillanimity, of sadness or weariness. Our God-given insight into the riddle of life helps us in every emergency; it makes us joyful, courageous, and confident of salvation. In this spirit the melody must be sung.
---
Friday, July 19, is the Feast of St. Vincent de Paul. Known today for his chain of middling thrift stores (my go-to place for glassware!), St. Vincent de Paul was one of the most prolific founders and almoners of the modern era. An entire family of orders and communities and apostolates has descended from his primary foundations: the Congregation of Priests of the Mission and, along with St. Louis de Marillac, the Daughters of Charity. Perhaps just as importantly, though less well-known, Vincent led the reform of priestly formation, founding and leading several French seminaries that moved toward the modern, more organized and rigorous approach to educating clergy.
Throughout his life, Vincent straddled the worlds of privilege and powerlessness. At the same time he served the spiritual needs of some of the most notable families in France, he was serving the galley-slave convicts of Paris, working to improve their material and moral conditions. St. Vincent de Paul was a model of balance and integration: Practical and prayerful, he was able to pass in the halls of power and the halls of prison, a supernatural trait that can only be honed through holiness:
This exterior life so fruitful in works had its source in a profound spirit of religion and in an interior life of wonderful intensity. He was singularly faithful to the duties of his state, careful to obey the suggestions of faith and piety, devoted to prayer, meditation, and all religious and ascetic exercises. Of practical and prudent mind, he left nothing to chance; his distrust of himself was equalled only by his trust in Providence…. His zeal for souls knew no limit; all occasions were to him opportunities to exercise it.
(Those SVdP thrift stores, by the way, are the work of the Society of St. Vincent de Paul, which was founded in the saint's honor many years after his death. They are active in serving the poor in 54 dioceses and over 4,000 parishes around the U.S. Find out more, and how to join or otherwise support their work, here.)
Saint Vincent de Paul Bringing Gallery Slaves to the Faith, by Jean-Jules-Antoine Lecomte du Nouÿ, 1876.
---
Those Seven Days…
HuffPost's long piece on the growing appeal of Catholic consecrated life among young women is surprisingly splendid. There are a few false notes, owing largely to the outsider's perspective, but it also contains candid, even courageous, insights into the psyche of today's young women:
Several other young women I spoke to who hoped to become nuns recommended a book to me called "And You Are Christ's." Written by an American priest named Thomas Dubay, its subtitle is "The Charism of Virginity and the Celibate Life." I am Jewish, and I am not celibate by any stretch of the imagination. I also wasn't sure what "charism" meant (basically, it's a special gift conferred on a person by God). But almost immediately upon opening the book, I experienced a strange sensation. It was as if Dubay were speaking straight to me.

"Nothing is ever enough," Dubay writes of how it feels to live in the modern world. You are expected to give yourselves entirely, 24/7, without wavering, to careers, to hobbies, to lovers, to children. Ideally, you are supposed to spend zero time not loving your job in a dying industry or your husband who fails to absorb the concept of emotional labor. But this is impossible.

And yet, Dubay explains, there is one being who reliably rewards our efforts: Christ. The woman who loves Him, the religious sister, has a calling worthy of her complete devotion and that honors her sacrifices "many times over," as the Book of Luke says. She has found her "passion." She has "rest," "fulfillment," "enthrallment," "completion"—precisely the things that I, exhausted, have often wanted.

There are a lot of recent books—and Twitter accounts, and blogs—written for women discerning to become nuns. They, too, sounded uncannily like the voice in my own head that whispers to me late at night all the things I wished my parents or partners or colleagues would say. Words of quiet affirmation and acceptance I had, in fact, almost never dared to ask for.
---
I've been so happy to see the cause of Venerable Augustus Tolton proceed:
---
Jeannie Ewing on praying through, and around, distraction has been all over my Facebook feed this week, and for good reason.
---
JD Flynn's images from his trip to Kenya give us a hint of where the faith, hope, and love that will renew the Church might come from:
---
Fr. Anthony, using the medium to perfection: Our duties explained in terms of God's love in under 280 characters:
Stop saying "God doesn't care... That I leave mass early That I use contraception About how I use social media That I ignore whatever church teaching" No. You don't care and you have projected your apathy on a God that cares deeply for you and wants your salvation.
---
Lastly, an incredibly exciting development in Catholic media: $20,000 has been raised in 36 hours for a new, eclectic, and faithfully Catholic magazine, The Lamp, under the direction of Matthew Walther and William Borman. Get some skin in the game here.
---
Feedback, &c.
Did I miss something important? Get something wrong? Do you have ideas for how to improve These Seven Days? Drop me a line at tsd.brandonmcg@gmail.com. This is a work in progress, and your feedback will help to make it the best it can be.
And if you enjoyed this, please forward it along to friends. Make sure you subscribe so you don't miss a week of These Seven Days.