TSD 32: The Newsy One
My big plans for the new year
If we're connected on Facebook or Twitter and you saw my Big Announcement, you can skip this part and get to the good stuff. For the rest of you, permit me to give you an update on my future:
After four great years at EWTN Publishing, at the end of this year I will be leaving to begin a career as a freelance writer, editor, and speaker. I'm so grateful to the folks at EWTN for the support and experience they've given me. Here's what I'll be up to:
Books
I will be writing a book for Sophia Institute Press early next year, which will lay out a new way to think about renewing the Church in America over the next generation. It will challenge all of us to play our God-ordained role in realizing His Kingdom on earth.
I am also working on a book for 2020 with writer and professor Scott Hahn. We are examining the virtue of religion and its necessity to a just & sustainable society. The book will be a distinctive contribution to ongoing discourse on the Church & political society.
Also, after years of delays (all my fault), I will be releasing a bookon notable Catholic sites in my hometown of Pittsburgh. It will be an informative, devotional, and at times humorous look at Pittsburgh's Catholic heritage.
Articles
In addition to my monthly column for the Scottish Catholic Observer, I will also be writing regular essays for Angelus News, the magazine of the Archdiocese of Los Angeles, thinking through the big questions of the Church and contemporary society.
I have also written feature articles for Plough magazine on my growing Catholic neighborhood in Pittsburgh, and for The Lamp magazine on a Catholic man who rediscovered the Faith during an unjust lifetime prison sentence. Both pieces will be released in the coming months.
Website
In anticipation of all this, I have redesigned my website. I'm no web developer, but I think it gets the job done. There, you can find more info about what I'm up to, and get in touch with questions, feedback, or inquiries--which brings me to...
Speaking
I am available to address parishes, conferences, colleges—you name it. If you follow me on here or read my stuff, you know my interests. Let me know what you're looking for in a speaker, and I can tailor an appearance to your needs. My current schedule includes:
November 19, on Catholic family life in a secular world, at St. Gertrude in Cincinnati.

January 14, on the sacramentality of friendship, at DePaul University in Chicago.

And a date TBD in March in Des Moines.
In Conclusion
I covet your prayers for this venture! I wouldn't make this move if I weren't confident it would be for the best, in a comprehensive way, for my family—but it's not without risk. Thank you for your continued support, and I hope you like what's to come!
Now, without further delay…
These Seven Days…
…in the Ordinary Form
It is the Thirty-second Sunday in Ordinary Time. The readings are 2 Maccabees 7:1-2, 9-14; 2 Thessalonians 2:16-3:5; and Luke 20:27-38.
All the readings this Sunday include eschatological themes, focusing especially on the power of the Lord to overcome the troubles and preoccupations and norms of this world, should we only place our trust in Him. This is clearest in the reading from Maccabees, recounting the martyrdom of the seven brothers:
At the point of death he said: "You accursed fiend, you are depriving us of this present life, but the King of the world will raise us up to live again forever."
St. Paul writes movingly of the constancy of the Lord who, if he will see the martyrs through their sufferings, will certainly see us through our everyday lives:
But the Lord is faithful; he will strengthen you and guard you from the evil one. …
May the Lord direct your hearts to the love of God and to the endurance of Christ.
In the Gospel, we hear Jesus' response to the sophistry of the Sadducees regarding the woman who marries seven brothers:
The children of this age marry and remarry; but those who are deemed worthy to attain to the coming age and to the resurrection of the dead neither marry nor are given in marriage.
St. Augustine explains this with characteristic simplicity, reminding us that the concerns this world are meaningless in the logic of heaven:
For marriages are for the sake of children, children for succession, succession because of death. Where then there is no death, there are no marriages…
Jean-Baptiste de Vignaly painted this image of the martyrdom of the seven Maccabean brothers and their mother in 1781. One will notice an oversight in this representation: None of the brothers are pictured posting to their blogs or Twitter accounts.
---
…in the Extraordinary Form
It is the Twenty-second Sunday after Pentecost. The Epistle is Philippians 1:6-11 and the Gospel is Matthew 22:15-21, in which Christ tells us to "render…to Caesar the things that are Caesar's."
A couple brief commentaries on this Gospel message, both accentuating the limits of what we owe to the civil authority, and the preeminence of what we owe to God. First, St. Hilary:
It behooves us also to render unto God the things that are His, namely, body, soul, and will. For Caesar's coin is in the gold, in which His image was portrayed, that is, God's coin, on which the Divine image is stamped; give therefore your money to Caesar, but preserve a conscience void of offence for God.
And St. John Chrysostom:
But when you hear this command to render to Cæsar the things of Cæsar, know that such things only are intended which in nothing are opposed to religion; if such there be, it is no longer Cæsar's but the Devil's tribute. And moreover, that they might not say that He was subjecting them to man, He adds, And unto God the things that, are God's.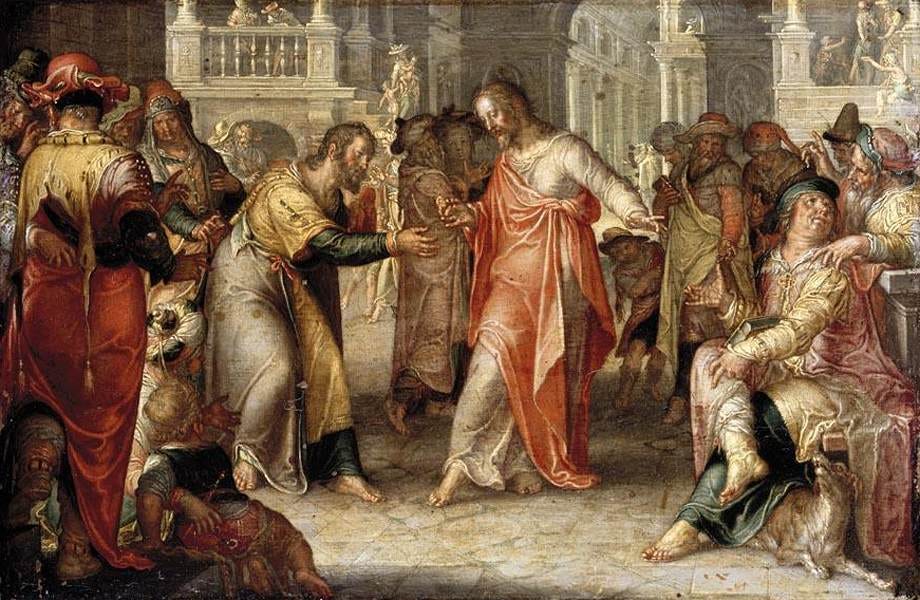 The Tribute Coin by Joachim Wtewael (1616) accentuates the very public nature of this confrontation of Christ, in which the Pharisees tried to trap Jesus into either enraging the Jews by demanding tribute to the emperor, or running afoul of the imperial authorities by discouraging it.
---
…in both forms of the Roman Rite
Monday, November 11, is the Feast of St. Martin of Tours, known traditionally as Martinmas, one of the most storied festivals in Christendom.
St. Martin lived a colorful and variegated life. Raised in a military family in the early fourth century, the young Martin took an early interest in Christianity, still a relatively uncommon conviction in Western Europe—and certainly among those attached to the army. He served some time in the Roman forces, during which he famously cut his cloak in two in order to clothe a beggar, but left after a crisis of conscience while serving under the emperor Julian the Apostate: "I am the soldier of Christ: it is not lawful for me to fight."
Martin became a protege of St. Hilary of Poitiers, fought passionately against Arianism (including being exiled by Arian authorities), then lived for some time as a hermit. His hermitage attracted curious and committed followers, and on its location one of the first European monasteries, Ligugé Abbey, was established. His reputation for holiness brought him to the attention of the faithful of Tours, who apparently tricked him into coming to their city, then took him to the cathedral where he was to be consecrated. It is said that "he was so unwilling to be made bishop that he hid in a barn full of geese, but their cackling at his intrusion gave him away to the crowd." This is, according to legend, the reason goose is traditionally served on Martinmas.
As bishop, Martin was known for his prayerfulness and his mercy: "Martin was so dedicated to the freeing of prisoners that when authorities, even emperors, heard he was coming, they refused to see him because they knew he would request mercy for someone and they would be unable to refuse." He also intervened on behalf of a sect of Spanish heretics—not to defend their views, but to argue that the emperor did not have authority to execute them for heresy. After this long and remarkable life, Martin of Tours died in 397, quickly becoming one of the most popular saints in the early and medieval Church.
This popularity combined with the mid-autumn timing of his feast to make Martinmas one of the most passionately celebrated feasts of the year. In addition to the St. Martin's Goose, other luxurious meats would be prepared in thanksgiving for the harvest and in preparation for times of deprivation—including what was once called "St. Martin's Lent," a time of fasting from Martinmas to Epiphany that was the predecessor to Advent. In German-influenced places, lantern processions are popular, and in wine-making regions, wine-soaked festivities celebrate the maturation of the beverage—and the legend that Martin introduced viticulture to Europe.
There is such a rich history to this day—something of a precursor of Thanksgiving—that every year I hope to mark it in some special way in our family or among our friends. And this year it sneaked up on me again, and I'm traveling through the 10th. Maybe you, with [checks calendar] three days' notice can come up with some good Martinmas ideas.
Anthony van Dyck's St. Martin and the Beggar was painted for the Church of St. Martin in Zaventem, modern Belgium, where it rests to this day.
Tip Jar
Gene Kelly was from Pittsburgh, you know. I'd do the The More You Know gif, but I have a strict one gif per newsletter rule.
Those Seven Days…
I am extremely excited about the debut issue of The Lamp—and not just because I'm in it. The magazine will be a beautiful object.
---
There is a lot going on in this tweet: Fr. Martin, a Habsburg, Scorsese, Latin…
---
This story inspired our son's name. Also, Ambrose is just a really cool name.
---
Hashtag post Christian civilization.
Overheard from two girls in the doorway of Old St. Pat's: "Oh my God, I think it's a church. We should go in and make a wish."
---
As for me…
Yes, there's more. Last Friday, after I had prepped the newsletter, my most recent column in the Scottish Catholic Observer was printed. In it, I beg you all to stop obsessing over Washington and, especially, Rome:
"We do not have a responsibility to monitor, and to form and disseminate opinions about, every piece of questionable news that emanates from the Eternal City. ...
While we don't need to cultivate a medieval ignorance of Church governance, nor embrace a naïve optimism that everything will be just fine, we can take a detached and skeptical view of the news we see and hear. And we can choose to focus our attention on what the Church really needs from Her faithful: prayer, sacrifice and holiness."
Feedback, &c.
Did I miss something important? Get something wrong? Do you have ideas for how to improve These Seven Days? Drop me a line at tsd.brandonmcg@gmail.com. This is a work in progress, and your feedback will help to make it the best it can be.
And if you enjoyed this, please forward it along to friends. Make sure you subscribe so you don't miss a week of These Seven Days.