Of the year, of the world, &c.
It's an especially busy time for me and the family: work, freelance preparations, travel, holidays. I was in Cincinnati (I can finally, at the age of 31, spell that city without double-checking) to give a talk on Tuesday, rounding out my speaking trips for the year. It was a great time: I saw old friends and met new ones, improved the writing and delivery of my talk on "The Catholic Family in a Secular Society," and made some decent Bengals jokes.
And now on Sunday we're headed to Richmond, Virginia, to visit my wife's family for the week of Thanksgiving. Sometime between now and then we're going to pack, and then right when we get home it's time to break out the Christmas decor. Somehow, I trust, it'll all get done.
Speaking of my wife and getting things done, let me plug her incredible artistry here.
Prints of these hand-lettered and -illuminated Marian antiphons are available in her Etsy shop. She just showed me her beautiful St. Andrew Novena Prayer cards, which are in progress, and will be available in digital form in time for Advent.
These Seven Days…
…in the Ordinary Form
It is the Solemnity of our Lord Jesus Christ, King of the Universe. The readings are 2 Samuel 5:1-3, Colossians 1:12-20, and Luke 23:35-43. For more information on the history of this feast, check out TSD 30.
The second reading is the same as the Epistle for this feast in the Extraordinary Form, so let's focus on that. Here, we see Christ described as the principle of the integrity of the universe:
For in him were created all things in heaven and on earth, the visible and the invisible, whether thrones or dominions or principalities or powers; all things were created through him and for him. He is before all things, and in him all things hold together.
In other words, to quote a current meme: God is in control. That is what it means to say that Christ is King. While that kingship manifests itself differently in the aspects of creation more or less mediated by humanity (the "natural world" versus Christ's social kingship), the truth remains in all spheres that power and authority is vested first and fully in Him.
I love line art. This is from the new Campion Missal from Corpus Christi Watershed.
---
Thursday, November 28, is Thanksgiving Day. This shouldn't be on the liturgical calendar. Go to Mass if you want: It's a lovely thing to do on any day, and as an act of thanksgiving on this day it's especially lovely. But we already had a fall festival feast in Martinmas. Or go to town with the Feast of St. Andrew (below).
---
…in the Extraordinary Form
It is the Twenty-Fourth and Last Sunday after Pentecost. The Epistle is Colossians 1:9-14 (notice the overlap with Christ the King) and the Gospel is Matthew 24:15-35.
The earthly pilgrimage of the Church symbolized by the Time after Pentecost is at an end, and now we are invited by the Church, and in the words of Christ, to consider the end times. It's a long and weighty reading, and I'd encourage you to peruse the Catena Aurea website I use to check out the numerous commentaries on the various images and prophecies in it. We have to pick something to focus on, though, so let's go with the conclusion to the apocalyptic vision:
Amen I say to you that this generation shall not pass away till all these things be done. Heaven and earth shall pass away, but My words shall not pass away.
Here's John Chrysostom:
All these things therefore mean what was said of the end of Jerusalem, of the false prophets, and the false Christs, and all the rest which shall happen down to the time of Christ's coming. That He said, "this generation," He meant not of the men then living, but of the generation of the faithful; for so Scripture uses to speak of "generations," not of time only, but of place, life, and conversation; as it is said, "This is the generation of them that seek the Lord." (Ps. 24:6.) Herein He teaches that Jerusalem shall perish…but that no trial shall overthrow the generation of the faithful.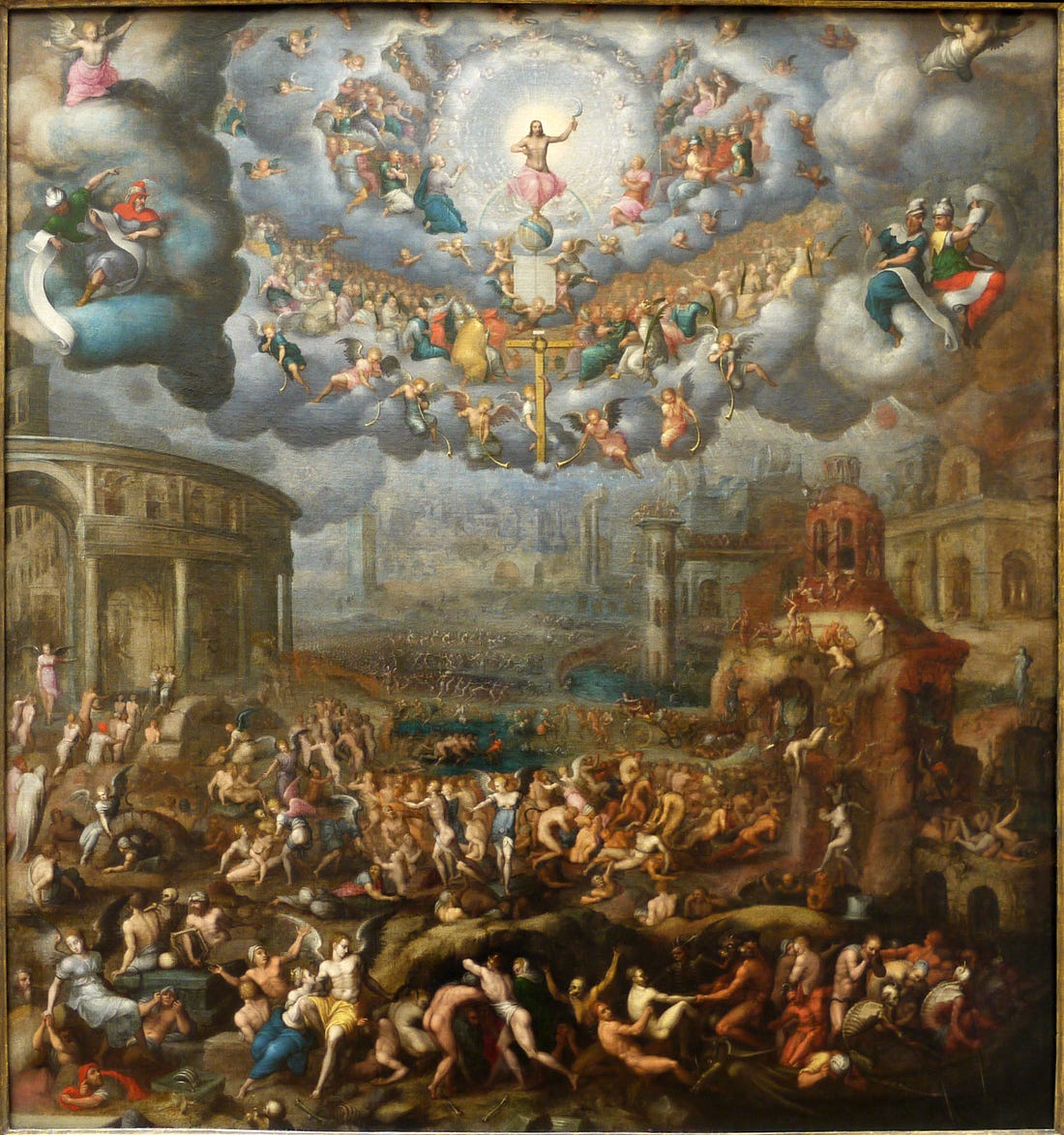 I enjoyed this little bit of commentary on the above: "Michelangelo's Last Judgment was, in fact, SO powerful and intimidating it was more than twenty years before any other major artist attempted to paint the subject. The French artist Jean Cousin, in 1560 attempted to "out-Michelangelo" Michelangelo with his gigantic rendering which, in its dark, confusing multiplicity of images is simply too much of a good thing." "Too much" might be just right for a rendering of the Second Coming, however.
---
The introit for this last Sunday of the year comes from the Book of Jeremiah and Psalm 83/84, and it begins Mass with words of trust and confidence in the Lord as we are about to contemplate the final tribulations:
Dicit Dominus: Ego cogito cogitationes pacis, et non afflictionis: invocabitis me, et ego exaudiam vos: et reducam captivitatem vestram de cunctis locis. // Benedixisti, Domine, terram tuam: avertisti captivitatem Jacob. Gloria Patri…

The Lord saith: I think thoughts of peace, and not of affliction; you shall call upon Me and I shall hear you; and I will bring back your captivity from all places. // Lord, Thou hast blessed Thy land; Thou hast turned away the captivity of Jacob. Glory be to the Father…
---
…in both forms of the Roman Rite
Monday, November 25, is the Feast of St. Catherine of Alexandria. This is a great case study in the way devotions develop, flourish, and wane. Catherine of Alexandria was one of the most well-known saints of the Church for several hundred years, including being included among the "Fourteen Holy Helpers" whose intercession was considered especially efficacious. Her star has dimmed in the modern era, including a brief period (1969-2002) off the General Roman Calendar, due in large part to evidence that her legend is, well, quite legendary.
I don't want to impugn the value of hagiography, which is a valuable and deeply human tradition, but I also want to be clear that the Church is not blindly credulous in these matters. The Catholic Encyclopedia, for instance, predates the heyday of historical-criticism and is scrupulously orthodox. About St. Catherine, though, it says:
Unfortunately we have not these acts in their original form, but transformed and distorted by fantastic and diffuse descriptions which are entirely due to the imagination of the narrators who cared less to state authentic facts than to charm their readers by recitals of the marvellous. The importance attached throughout the Middle Ages to the legend of this martyr accounts for the eagerness and care with which in modern times the ancient Greek, Latin and Arabic texts containing it have been perused and studied, and concerning which critics have long since expressed their opinion, one which, in all likelihood, they will never have to retract. Several centuries ago when devotion to the saints was stimulated by the reading of extraordinary hagiographical narrations, the historical value of which no one was qualified to question, St. Catherine was invested by Catholic peoples with a halo of charming poetry and miraculous power. …

Although contemporary hagiographers look upon the authenticity of the various texts containing the legend of St. Catherine as more than doubtful, it is not therefore meant to cast even the shadow of a doubt around the existence of the saint. But the conclusion reached when these texts have been carefully studied is that, if the principal facts forming the outline are to be accepted as true, the multitude of details by which these facts are almost obscured, most of the wonderful narratives with which they are embellished, and the long discourses that are put into the mouth of St. Catherine, are to be rejected as inventions, pure and simple.
There's a great balance here between accepting the conclusions of genuine research and acknowledging the genuine value of these legends through the ages—as well the the reality of the saint herself, because someone has been responding to all those prayers through the ages.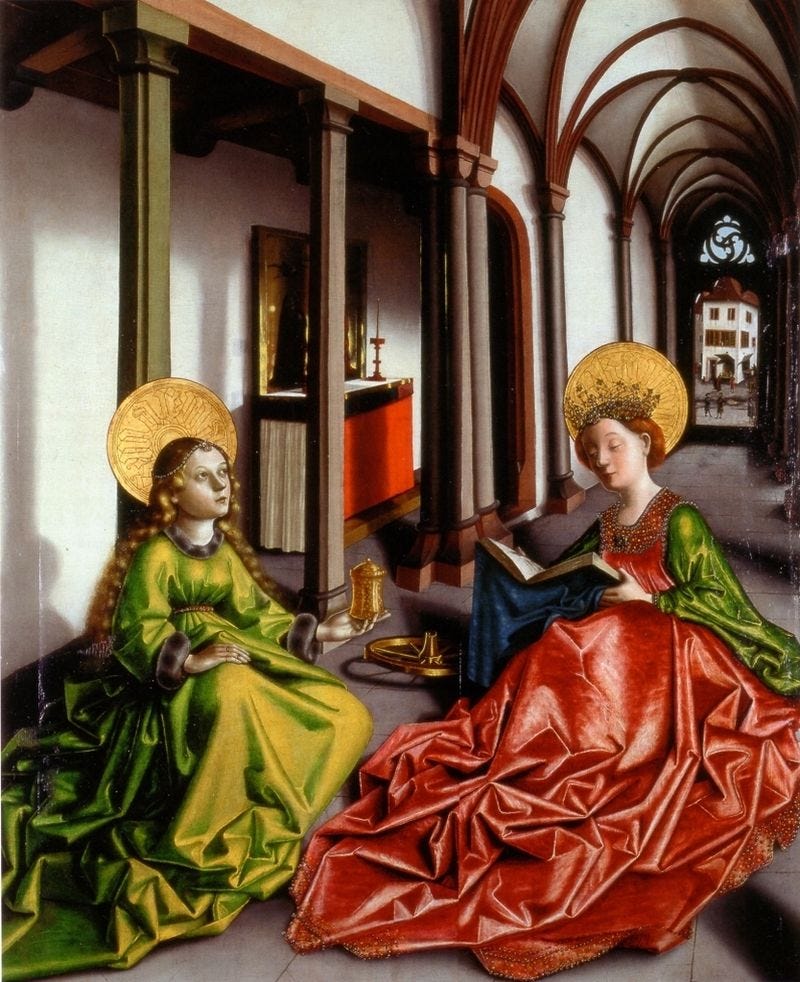 St. Catherine of Alexandria alongside St. Mary Magdalene. St. Catherine is here depicted with traditional accessories: the wheel (background) on which she was to be broken, and the book (and pose) of a scholar. By Konrad Witz, fifteenth century.
---
Saturday, November 30, is the Feast of St. Andrew the Apostle. There's an enormous amount to say about the brother of St. Peter, especially in terms of the numerous legends about his missionary work and the distribution of his relics. This newsletter is already on the long side, however, so we'll focus on the liturgical.
Falling in late November, around the usual time of the beginning of Advent, St. Andrew is traditionally the first saint listed in the Proper of Saints—as he is in my St. Andrew Missal. In the old rite his feast was preceded by a vigil, and in both the old and new liturgies the Gospel reading is his calling by Christ in Matthew 4:18-22:
As Jesus was walking by the Sea of Galilee, he saw two brothers, Simon who is called Peter, and his brother Andrew, casting a net into the sea; they were fishermen. He said to them, "Come after me, and I will make you fishers of men." At once they left their nets and followed him.
As a new liturgical year is about to dawn, let us follow the example of Andrew and drop whatever might delay us and follow Jesus.
The Calling of Saint Peter and Saint Andrew by James Tissot (c. 1890). I like that this rendering depicts the saints as younger men, rather than the traditional decision to depict them as grizzled.
---
Those Seven Days
The first tweet of a devotional and informative thread on the Mass of the Americas celebrated in Washington, DC, last week:
---
Another first tweet in a thread, this one an important overview of the proper relationship between the faithful and the Holy Father, especially in terms of speech. Francis is not the president, but the Vicar of Christ. Misgivings, and even grave concerns, about the administration of the Holy See are as old as the Church; public contempt for the Pope, however, is scandalous. The line is not always easy to see—Fr. Fish gives some good guidelines—but when in doubt, it can't hurt to err on the side of respect.
---
Or, as I put it in this essay several years ago, "The existence of congenital blindness [does not] mean that humans are not sighted creatures. It is not insulting or demeaning to blind persons to say that humans are sighted by nature; it is a fact of our species."
---
It's completely ridiculous that we expect potential converts, filled with the zeal of the Holy Spirit, to sit around and wait until it's convenient for (bows head) parish schedules for them to be formed and received:
---
Extremely jealous of Pater Edmund. This is Manfred Honeck, music director of my hometown Pittsburgh Symphony Orchestra and a faithful Catholic often seen at daily Mass when he's in town. He's brought the PSO back to international prominence, emphasizing innovative interpretations of classics from the repertoire—including his astonishing "re-liturgization" of Mozart's Requiem, during which he intersperses readings and chant, closing with the Ave Verum Corpus. I wish I could find a video of it, but below is a video of him talking about it.
---
Bingo.
Why younger Christians have a markedly different view on the place of Christianity in American public life than do older Christians, a thread.
Christianity has never been mainstream for us. Since we were in elementary school, if our families were believers, that made us "weird." We don't expect to see the market, or politics, or media bend toward our worldview, we already know we're "strangers in a strange land."
the end.
---
Tip Jar
---
Feedback, &c.
Did I miss something important? Get something wrong? Do you have ideas for how to improve These Seven Days? Drop me a line at tsd.brandonmcg@gmail.com. This is a work in progress, and your feedback will help to make it the best it can be.
And if you enjoyed this, please forward it along to friends. Make sure you subscribe so you don't miss a week of These Seven Days.