TSD 47: Be Perfect
There's no better time than now
Lent has become one of my very favorite times of year. Besides the spiritual fruitfulness of the season, I love how a serious observance of Lent adds such drama to the passing away of winter and the rise of springtime. It is in some ways the hardest time of year, both in terms of climate and our habits, as we take on penances while still being cooped up out of the cold (in humane, four-season places like Pittsburgh, at least). But that makes the green warmth of Easter all the more special, all the more something to look forward to as a genuine rebirth.
So go ahead, try a little harder penance than usual this Lent. Don't hurt yourself or make yourself miserable (the readings for this Sunday and Ash Wednesday should inoculate you against that), but make it pinch a bit. For me, nothing has made the experience of Easter match its reality more than taking Lent more seriously.
These Seven Days…
…in the Ordinary Form
It is the Seventh Sunday in Ordinary Time. The readings are Leviticus 19:1-2, 17-18; 1 Corinthians 3:16-23; and Matthew 5:38-48. The overwhelming theme of this last Sunday before Lent is holiness at all costs. In Leviticus the Lord says to Moses, "Be holy, for I, the Lord, your God, am holy." This is picked up and amplified by Christ, "So be perfect, just as your heavenly Father is perfect." And in between St. Paul teaches that holiness will look like foolishness in the logic of the world, "For the wisdom of this world is foolishness in the eyes of God."
I think with some frequency of Christ's exhortation to be "perfect." We know, of course, that every person sins, and that our nature is fallen from what it was made to be. And yet too often we stop there and wallow in our wickedness. But grace can make us perfect again; we must believe this, or else we deny God's goodness and power. Perhaps it would be imprudent to expect it in the next few weeks, but we must believe it is possible, and strive to cooperate with His grace to that end.
On the ladder of virtue culminating in perfection in today's Gospel, St. John Chrysostom writes:
Note through what steps we have now ascended hither, and how He has set us on the very pinnacle of virtue. The first step is, not to begin to do wrong to any; the second, that in avenging a wrong done to us we be content with retaliating equal; the third, to return nothing of what we have suffered; the fourth, to offer one's self to the endurance of evil; the fifth, to be ready to suffer even more evil than the oppressor desires to inflict; the sixth, not to hate him of whom we suffer such things; the seventh, to love him; the eighth, to do him good; the ninth, to pray for him. And because the command is great, the reward proposed is also great, namely, to be made like unto God
---
…in the Extraordinary Form
It is Quinquagesima Sunday. The Epistle is 1 Corinthians 13:1-13 and the Gospel is Luke 18:31-43.
It's 1 Corinthians 13. It's poetry. It's perfect.
I realize that "charity," used by the Douay-Rheims here, might be the more direct translation, but for the poetry to work it has to be "love."
This scene from The Mission is part of de Niro's transformation from mercenary slaver to Jesuit missionary. It's one of the most beautiful Catholic movies ever made, and the use of 1 Corinthians 13 is wonderful—and perfectly suited to this last Sunday before Lent. In the film, it comes after de Niro's penance, sealing it with love for God and his fellow man. For us today, it precedes penance, reminding us what the point of all this is. And this it leads into Christ's prophecy of His passion in Luke 18:
For He shall be delivered to the Gentiles, and shall be mocked and scourged and spit upon: and after they have scourged Him, they will put Him to death…
The passion as the ultimate expression of Christ's love is both the source and the object of our own.
Christ at the pillar by Guercino, 1657. The sadistic contempt in the expression of the man grasping Jesus' hair particularly recommends this depiction.
---
Tuesday, February 25, is the Feast of St. Matthias. An easily forgotten fellow, Matthias accepted one of the most intimidating job descriptions in history: joining the Apostles, facing the task of evangelizing the world and courting almost certain martyrdom, and replacing the betrayer of our Lord to boot. Also note that the final decision was entrusted to the proverbial flip of a coin—though not to chance, but to providence. Those coin flips at the Iowa and Nevada caucuses look a little less silly now, huh.
What Matthias got up to after Pentecost is unknown. Some traditions have him preaching in Ethiopia, others place him in central Asia, and others still have him being stoned and beheaded in Jerusalem. Regardless, we can take inspiration from Matthias's bold acceptance of the Lord's extraordinary plan for him—and we can remember that we are all called by providence to follow Christ, just as he was.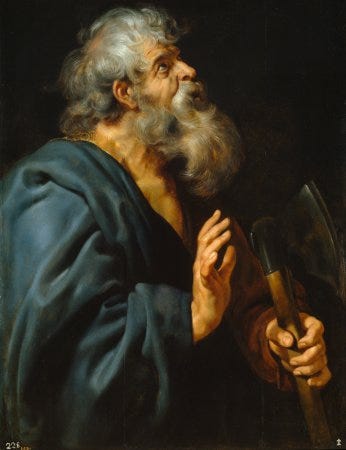 St. Matthias depicted by Peter Paul Rubens. The ax represents the legendary instrument of his death by beheading. (It took a lot of discipline not to post an image of Matthias from Redwall.)
---
Friday, February 28, is the Feast of St. Gabriel of Our Lady of Sorrows—the patron of my childhood parish. A remarkable figure, St. Gabriel lived only 24 years (less two days), and accomplished nothing particularly notable during that time—except advancing in palpable holiness to such a degree that he left an extraordinary impression on those around him, such that a cult built up around him almost immediately, and the traditional fifty-year waiting period for his beatification was waived.
While apparently a bit of a dandy as a young man, a series of family tragedies and personal illnesses nudged him toward the religious live, and he joined the Passionists as a teenager. Among the Passionists he was simply, well, pretty close to perfect: an excellent student but more importantly a patient and determined follower of the community's rule of life. He took his long-term suffering with tuberculosis in a spirit of docility and charity, thanking God for the opportunity to prepare for his death. And that's what he did, and now he enjoys perfect and perpetual communion with our Lord. What a simple, lovely life.
An old holy card featuring St. Gabriel.
---
…in both forms of the Roman Rite
Wednesday, February 26, is Ash Wednesday, also known in the United States as Catholic (and Some Liturgical Protestant) Identification Day. (Please, I beg you, do not geek out over some minor public figure who never gives so much a whiff of an impression of following Christ 364 days a year appearing in public with ashes.)
There are some interesting continuities between the old and new liturgies for Ash Wednesday. Both, for instance, use the second chapter of the Book of Joel (verses 12-19 in the old Mass, and 12-18 in the new). The old blessing of ashes also uses two antiphons from this selection:
Let us change our garments for ashes an sackcloth: let us fast and lament before the Lord: for plenteous in mercy is our God to forgive our sins. (13)

Between the porch and the altar, the priests, the Lord's ministers, shall weep and shall say: Spare, O Lord, spare Thy people: and close not the mouths of them that sing to Thee. (17)
The Gospel readings in both forms draw from Matthew 6, with a notable overlap at verses 16-18:
"When you fast, do not look gloomy like the hypocrites. They neglect their appearance, so that they may appear to others to be fasting. Amen, I say to you, they have received their reward. But when you fast, anoint your head and wash your face, so that you may not appear to be fasting, except to your Father who is hidden. And your Father who sees what is hidden will repay you."
In other words, don't be a slob in Lent.
This is Great Gale at Yarmouth on Ash Wednesday by John Berney Crome, an early nineteenth-century English painter. Here's some commentary on the painting from Loyola Press:
Ash Wednesday's second reading calls out with urgency: "now is the acceptable time…now is the day of salvation." Lent calls us to conversion, and conversion without delay. The path to the Easter font, though, is often through turbulent waters. Like the boat in Crome's painting, we are tossed in the waves of our own desires and follies. Or, like the shore houses on the right, we are assaulted by our temptations and selfishness. Ash Wednesday is the day to face these anew with the belief that the wind is not a threat, but perhaps the breath of the Spirit that seeks to drive away all that keeps us from the fullness of life.
---
Tip Jar
This gif was not paid for or approved by any candidate or candidate's committee.
---
Those Seven Days…
Matthew Walther's response to Querida Amazonia is typically splendid:
Francis's ostensible theme in this reflection is the destruction of the Amazon and her indigenous peoples, both physically and spiritually, at the hands of neoliberal capitalism, leaving the soil exhausted and fruitless and the men and women of the region impoverished and atomized in cities where they live as strangers. But this sense of "bewilderment and uprootedness" extends well beyond the Amazon. It is, in fact, the defining characteristic of modern life. Overcoming these evils in South America and throughout the world will involve something more than international climate summits or NGO-sponsored PowerPoint presentations. It will require nothing less than the destruction of the existing order of things and its replacement with a new humane form of social organization whose first principles are not the acquisition of wealth or the pursuit of fleeting pleasures but love, fraternity, and serenity.
---
Padre Brendon (and every Catholic authority until the day before yesterday) against billionaires:
---
While I'm uneasy about making light of these matters, this is spot on:
---
Too bad the Red Wings suckkkkkkkk
I'm curious about the wine glass in father's hand…?
---
The ball is your soul and his excellency is your guardian angel…
---
The Prime Directive
---
Feedback, &c.
Did I miss something important? Get something wrong? Do you have ideas for how to improve These Seven Days? Drop me a line at tsd.brandonmcg@gmail.com. This is a work in progress, and your feedback will help to make it the best it can be.
And if you enjoyed this, please forward it along to friends. Make sure you subscribe so you don't miss a week of These Seven Days.