TSD 48: With Justice For All
Saints of privilege--and service
These Seven Days…
…in the Ordinary Form
It is the First Sunday of Lent. The readings are Genesis 2:7-9, 3:1-7; Romans 5:12-19; and Matthew 4:1-11. We'll cover the Gospel, which is the temptation of Christ in the desert, in the Extraordinary Form section, since it's the same reading.
The first two readings kick off Lent with the bang, focusing us on the reality of sin, but the overcoming reality of grace. We are reintroduced to the entire drama of salvation history, from the first sin of Adam to the saving grace of Jesus Christ, which St. Paul insists is stronger than death. Here's Witham's commentary in Haydock:
By the offence of one man, death reigned in the world, and made all men liable to damnation; yet now by the incarnation of Christ, (which would not have been, had not Adam sinned) all they who are justified by the grace of their Redeemer, have Christ God and man for their head: he is become the head of that same mystical body which is his Church: they are exalted to the dignity of being the brothers of Christ, the Son of God; they are made joint heirs with him of the kingdom of heaven, and so by the grace of Christ have a greater dignity in this world, and shall be exalted to a greater and more eminent degree of glory in the kingdom of his glory for all eternity; which hath given occasion to the Church, in her liturgy, to cry out, as it were with a transport of joy, "O happy fault, which hath procured us such and so great a Redeemer!"
This last line is a reference, of course, to the Exsultet which will be sung at the Easter Vigil—a perfect bookend.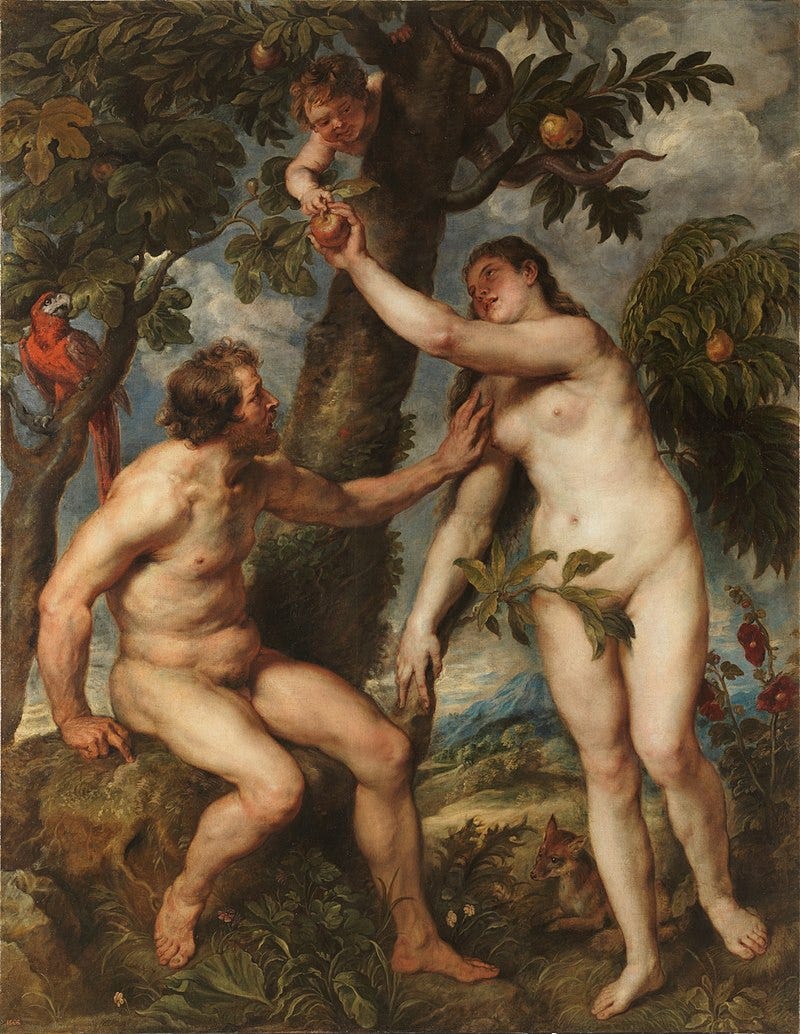 Peter Paul Rubens produced this copy (bottom 1628-1629) of the original depiction of the fall by Titian (top, 1550s). Rubens softened the overall appearance, added a parrot, and aged Adam at least a decade.
---
Tuesday, March 3, is the Feast of St. Katharine Drexel. One of the greatest stories in the history of philanthropy, the Drexel family demonstrates that it's possible to use great wealth for the good of souls—including one's own. Katharine's father, Francis Anthony, was a successful leader of the family's investment firm and left $14 million to his three daughters. (I'm not sure if this is humorous or ghoulish, but in 1990 a successor to the family firm went bankrupt under pressure from federal regulators for illegal activities.) Francis's second wife (his first died shortly after Katharine's birth) was a woman of wonderful charity:
Three days a week, Emma Drexel would distribute food, clothing, shoes, medicine, or rent money to any poor person who came to their door. She employed an assistant who would visit tenements, assess the need, and give them a ticket to present to Mrs. Drexel. The Drexels spent about $30,000 annually on the home-based charity, including paying the rent for 150 families.
Katharine's inheritance paid her around $1,000 a day (in nineteenth-century dollars) in passive income. She used it to fund 145 missions, 50 schools for African Americans, and 12 schools for Native Americans, among other institutions. But she wasn't canonized for her philanthropy: She also took the habit, giving up her vaunted position in Philadelphia society (a headline apparently read, "Miss Drexel Enters a Catholic Convent—Gives Up Seven Million"), and served the poor and marginalized with her own hands. She was a living testament to the requirements of justice, one that should be an example to all who are privileged.
The habited visage of St. Katharine Drexel is relatively well-known. Here she is, though, as a young woman. Philadelphia's ABC affiliate also recently did a short documentary series on the city's favorite daughter. Here's part one:
---
Saturday, March 7, is the Feast of Sts. Felicity and Perpetua. (In the old calendar, the feast is the day before.) While so many of the stories of the early martyrs have been filtered through hagiography and legend, we have Perpetua's own account of here imprisonment and an eyewitness account of her martyrdom, along with four companions. The Passion of Saints Perpetua and Felicity was mostly written in her own hand, and included her rebuffing her nobleman father's attempts to convince her to apostatize and her mystic visions that helped convince her to remain steadfast. The account also includes the visions of one of her companions, Saturus, and the details of her death, appended later by a Christian witness. The full translated text is available here.
Vibia Perpetua was a noblewoman in Carthage, and Felicity was one of her slaves. They were both catechumens when they were arrested under the persecution of emperor Septimius Severus, whose birthday was commemorated by their mauling by wild beasts. Perpetua had a small son whom she was permitted to nurse in prison, and Felicity was pregnant; she gave birth to a daughter, who was adopted by a Christian family, just days before the execution.
The traditional date of the saints' martyrdom is March 7. When St. Thomas Aquinas's feast was fixed on this day, they were downgraded; in order to free them from Thomas's shadow Pope St. Pius X moved them to March 6. In the new calendar, Thomas is bumped and Perpetua and Felicity restored to the seventh.
Depiction of the martyrdom in the virulently anti-Catholic works of the English writer John Foxe. Apparently, even though Perpetua and Felicity are commemorated in the Roman Canon, he considered them proto-Protestants.
---
…in the Extraordinary Form
It is the First Sunday of Lent. The Epistle is 2 Corinthians 6:1-10 and the Gospel is Matthew 4:1-11. Before the Gospel there is a "tract," which is Psalm 90:1-7, 11-16.
Gregory the Great observes the parallel between Satan's discourse with Adam (see above) and his discourse with Christ:
If we observe the successive steps of the temptation, we shall be able to estimate by how much we are freed from temptation. The old enemy tempted the first man through his belly, when he persuaded him to eat of the forbidden fruit; through ambition when he said, "Ye shall be as gods"; through covetousness when he said, "Knowing good and evil"; for there is a covetousness not only of money, but of greatness, when a high estate above our measure is sought. By the same method in which he had overcome the first Adam, in that same was he overcome when he tempted the second Adam. He tempted through the belly when he said, "Command that these stones become loaves"; through ambition when he said, "If thou be the Son of God, cast thyself down from hence"; through covetousness of lofty condition in the words, "All these things will I give thee."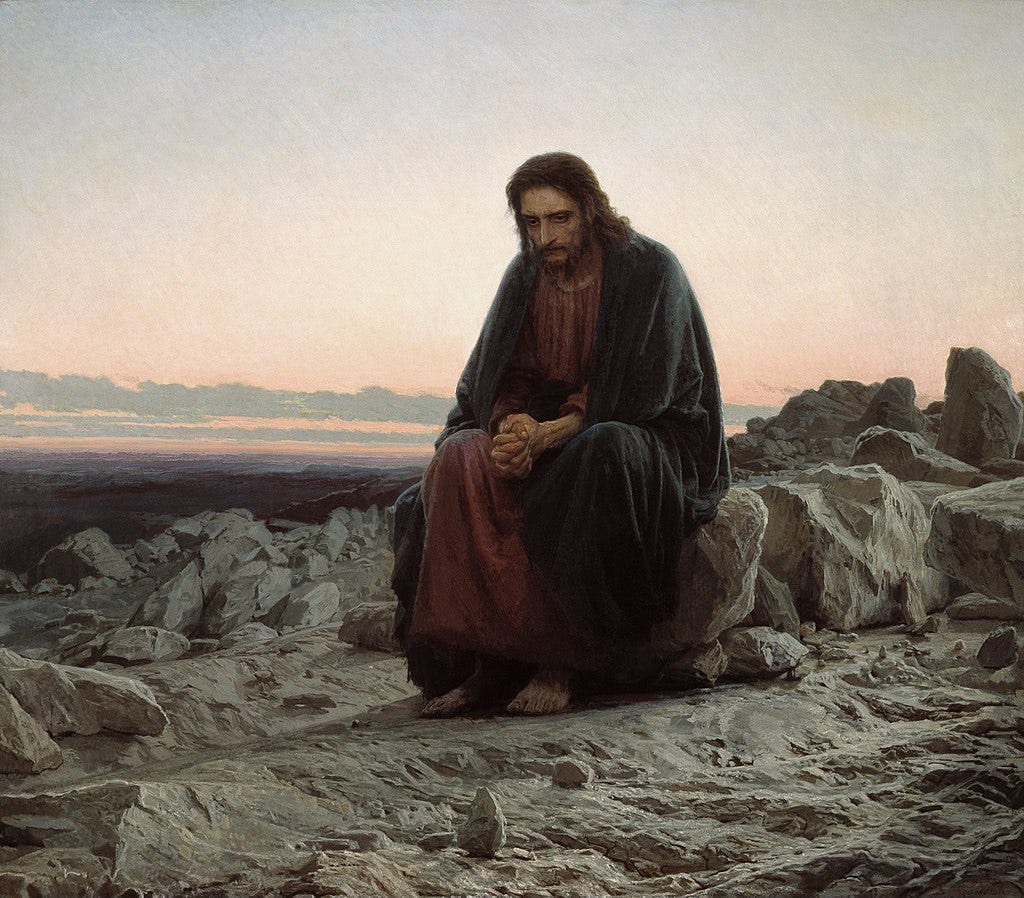 I'm completely taken by the starkness of this portrayal of Christ in the desert by Ivan Kramskoi (1872). A contemporary critic wrote, "the entire figure seems to have diminished a bit from its natural size, contracted, not from starvation, thirst and bad weather, but from internal, inhuman insight to his thought and will during the struggle of forces of spirit and flesh."
---
The introit for this Sunday is the Invocabit me from Psalm 90 (89):
Invocabit me, et ego exaudiam eum: eripiam eum, et glorificabo eum: longitudine dierum adimplebo eum. // Qui habitat in adjutorio Altissimo: in protectione Dei caeli commorabitur. Gloria Patri…

He shall cry to me, and I will hear him: I will deliver him, and I will glorify him: I will fill him with length of days. // He that dwelleth in the aid of the most High shall abide under the protection of the God of Heaven. Glory be to the Father…
Here's Dom Johner:
We have now entered the serious season of Lent, the season of penance. Much is expected of us during this time. But the prospect should not dismay us; sadness or weariness are entirely out of place. For we are not to carry on the fight alone. Now more than ever the Lord will be our help. We may call upon Him, and He promises to hear us (first phrase). He will remove all obstacles, all ground for complaint; He will "deliver us;" He will even—Oh, the wonder of it!—glorify us (second phrase). And that which He now promises us is, moreover, to be our lasting possession, is to fill the yearning of our hearts for all eternity (third phrase).
---
It is the Spring Embertide. Wednesday, March 4; Friday, March 6; and Saturday, March 7 are the Ember Days, during which fasting and partial abstinence from meat are observed (full abstinence on Friday, of course).
---
Saturday, March 7, is the Feast of St. Thomas Aquinas. See TSD 43 for our treatment of the Angelic Doctor. NB: He didn't actually try to burn his corpus; sorry about that.
---
…in both forms of the Roman Rite
Wednesday, March 4, is the Feast of St. Casimir of Poland. The patron saint of Poland and Lithuania, Casimir was born in 1458, the second son of the King of Poland and Grand Duke of Lithuania Casimir IV. The boy was destined for a life of politics and statecraft, and was at the time of his early death the heir apparent to his father's throne, as his elder brother had taken the throne of Bohemia. In the early 1480s the young Casimir ruled Poland in his father's place, as the King tended to affairs in Lithuania.
Amid all the temptations to power and pleasure presented in the royal courts, Casimir dedicated himself to chastity and justice. He practiced harsh mortifications, which probably hastened his death from tuberculosis. He is considered a saint of detachment, not dissimilar from Katharine Drexel above. The collect in the Extraordinary Form reads:
O God, who amidst the delights of royalty and the blandishments of the world, didst strengthen holy Casimir with the virtue of constancy, grant we beseech Thee, that by his intercession Thy faithful may despise earthly things, and ever aspire to those of heaven.
Portrait of St. Casimir by Carlo Dolci, seventeenth century.
---
Those Seven Days
The social teaching of the Church, comprehensively understood, all hangs together:
---
I like to think most group emails among the FSPs are just forwarded memes.
---
Even placing to one side (if possible) the relative beauty of the structures, the public space in the first image looks like a place designed for human beings; the second one does not.
---
One child; two children; three-plus children.
broke: "pardon our mess! the children are making memories!" woke: "excuse our mess. we live here!" bespoke: "it is messy. im not sorry. I regret nothing."
---
This is especially good to remember during Lent. Our penance isn't meant to be isolating, but to bind us more closely to the people of God.
---
Tip Jar
I swear every week there are new ones in the top results for "hat tip gif." It's inexhaustible.
---
Feedback, &c.
Did I miss something important? Get something wrong? Do you have ideas for how to improve These Seven Days? Drop me a line at tsd.brandonmcg@gmail.com. This is a work in progress, and your feedback will help to make it the best it can be.
And if you enjoyed this, please forward it along to friends. Make sure you subscribe so you don't miss a week of These Seven Days.