TSD 50: In Time of Pestilence
Liturgy under lockdown
I assume many of you won't be making it to Mass this weekend. I hope this newsletter provides some small comfort. There's information about making a Spiritual Communion down in the Twitter section. Our neighborhood of Catholic families is also doing novenas to Bl. Francis Xavier Seelos, also below.
I hope you will excuse a somewhat shorter edition. I've been (probably too) preoccupied with the pandemic, and I trust you know all about St. Patrick and St. Joseph already.
These Seven Days…
…in the Ordinary Form
It is the Third Sunday of Lent. The readings are Exodus 17:3-7; Romans 5:1-2, 5-8; and John 4:5-42, the story of Jesus with the woman at the well.
Between the first reading and the Gospel we see two kinds of life-giving water: the kind that sustains bodily life, which the Israelites whined at Moses for, and the kind that sustains the life of the soul. Augustine says about this more perfect water:
Which is true indeed both of material water, and of that of which it is the type. For the water in the well is the pleasure of the world, that abode of darkness. Men draw it with the waterpot of their lusts; pleasure is not relished, except it be preceded by lust. And when a man has enjoyed this pleasure, i. e. drunk of the water, he thirsts again; but if he have received water from Me, he shall never thirst. For how shall they thirst, who are drunken with the abundance of the house of God? (Ps. 36:8.) But He promised this fulness of the Holy Spirit.
We can see this selfish appetite for bodily sustenance in the extraordinary way the Israelites addressed Moses, who had redeemed them: "Why did you ever make us leave Egypt? Was it just to have us die here of thirst with our children and our livestock?"
Chrysostom also points to another way Christ subverts and fulfills the law: Through dealing with a Samaritan woman at all:
But why did Christ ask what the law allowed not? It is no answer to say that He knew she would not give it, for in that case, He clearly ought not to have asked for it. Rather His very reason for asking, was to shew His indifference to such observances, and to abolish them for the future.
The life-giving water is not only liberation from our concupiscence, but also from division and rancor between the nations.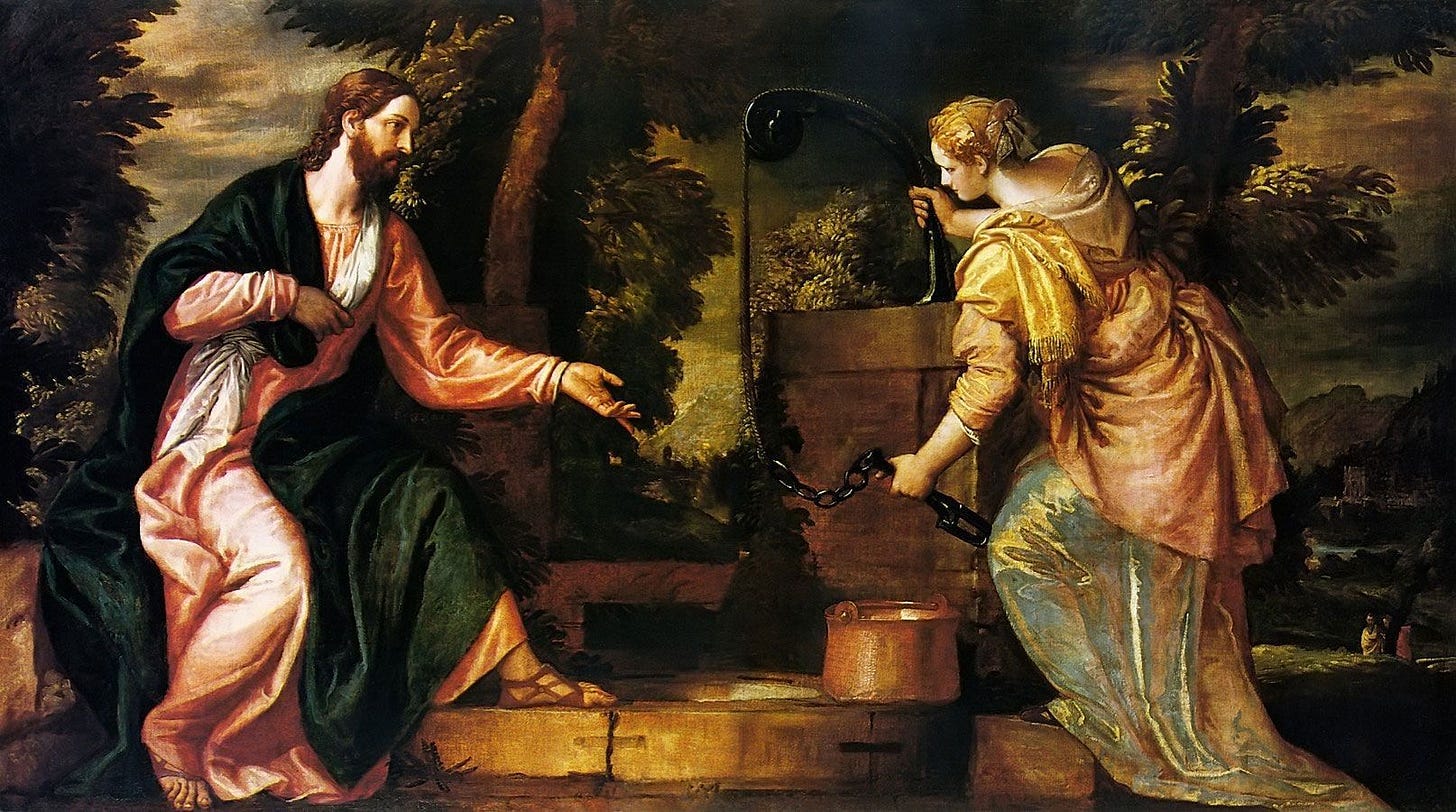 Paolo Veronese, 1585. There's a certain pure intimacy in this dialogue that is wonderfully captured in so many depictions. Christ is almost always portrayed, as here, with an open, welcoming, vulnerable posture toward the Samaritan woman.
---
…in the Extraordinary Form
It is the Third Sunday of Lent. The Epistle is Ephesians 5:1-9 and the Gospel is Luke 11:14-28. The tract is Psalm 122:1-3.
The readings this week emphasize the starkness of the choice we have to make between light and dark, holiness and depravity, Christ and the Enemy.
Let no man deceive you with vain words. For because of these things cometh the anger of God upon the children of unbelief. Be ye not therefore partakers with them. For you were heretofore darkness, but now light in the Lord. Walk then as children of the light.
Meanwhile, the Gospel gives the account of Christ casting out demons while being accused of doing so under the power and authority of Beelzebub. He responds by reminding us that there are two sides—only the good can cast out the bad—and we must choose: "He that is not with me is against me: and he that gathereth not with me scattereth."
The lesson concludes with a striking warning against backsliding, which the Venerable Bede elucidates thus:
This may also be taken to refer to certain heretics or schismatics, or even to a bad Catholic, from whom at the time of his baptism the evil spirit had gone out. And "he wanders about in dry places," that is, his crafty device is to try the hearts of the faithful, which have been purged of all unstable and transient knowledge, if he can plant in them any where the footsteps of his iniquity. But he says, "I will return to my house whence I came out." And here we must beware lest the sin which we supposed extinguished in us, by our neglect overcome us unawares. But "he finds his house swept and garnished," that is, purified by the grace of baptism from the stain of sin, yet replenished with no diligence in good works. By the "seven evil spirits which he takes to himself," he signifies all the vices. And they are called more wicked, because he will have not only those vices which are opposed to the seven spiritual virtues, but also by his hypocrisy he will pretend to have the virtues themselves.
---
The introit comes from Psalm 24, and also emphasizes our duty to cleave to the Lord:
Oculi mei semper ad Dominum, quia ipse evellet de laqueo pedes meos: respice in me, et miserere mei, quoniam unicus et pauper sum ego. // Ad te, Domine, levavi animam meam: Deus meus, in te confido, non erubescam. Gloria Patri…

My eyes are ever towards the Lord: for He shall pluck my feet out of the snare: look Thou upon me, and have mercy on me; for I am alone and poor. // To Thee, O Lord, have I lifted up my soul: in Thee, O my God, I put my trust, let me not be ashamed. Glory be to the Father…
Dom Johner's analysis (pp. 130-131) is particularly relevant to our moment of crisis:
Hence the composer of this Introit was concerned in a special manner to give prominent expression to one word, the word which predominates over the rest of the antiphon: evellet—He liberates me, plucks my foot from the snare, frees me. Whatever of consolation and joy (a joy like that of Easter) this word contained, was to penetrate into the heart of the catechumens; at the same time it was to arouse a vehement longing for happiness, for the freedom of the children of God. Evellet takes the part of a leitmotif, receiving a wonderful development especially in today's Gospel. However great Satan's power may be, a superior power will take the field against him. Christ will conquer him, will cast him out from the souls of men and despoil him of the weapons in which he had placed his trust. Thus prays the Introit: Oculi mei— my eyes are ever fixed upon the Lord. Text and melody exhibit a pleasing, symmetric construction.
---
…in both forms of the Roman Rite
Tuesday, March 17, is the Feast of St. Patrick. Honestly, he's one of the most upsettingly abused saints in history. The man is a true hero of courage and faithfulness, a man worthy of the widespread veneration he receives—but not of the secular revelry it has morphed into. There is perhaps no better example throughout the year of secularized Catholicism.
Here, by the way, is the tremendous prayer attributed to him, known as St. Patrick's Breastplate.
Honesty it's really hard to find a non-kitsch, non-stereotypical depiction of St. Patrick. So here's an image from Old St. Patrick's Church here in Pittsburgh. There's an icon of the saint behind the (green) sanctuary lamp.
---
Wednesday, March 18, is the Feast of St. Cyril of Jerusalem. Mostly remembered today for his Catechetical Lectures, Cyril of Jerusalem was a fourth-century bishop and essential contributor to early doctrine. He attended the Council of Constantinople in 381, where the Emperor Theodosius (who famously had a run-in with St. Ambrose) promulgated the Nicene Creed for the entire empire—and Cyril came to agree with the Creed's Christology.
Cyril of Jerusalem died in 386, and was named a Doctor of the Church by Pope Leo XIII.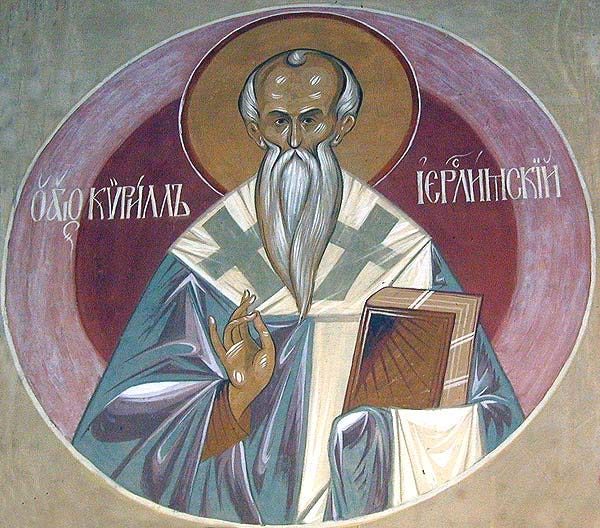 I feel like all these old icons of Church Fathers look alike.
---
Thursday, March 19, is the Feast of St. Joseph. I think every Catholic man, certainly every Catholic father, thinks first (or nearly first) of the foster-father of Christ when asked to name a favorite saint. The word that comes to mind is solid: quiet, honest, strong, faithful. More than almost anyone, I long to speak to him in heaven. For now, though, only in prayer.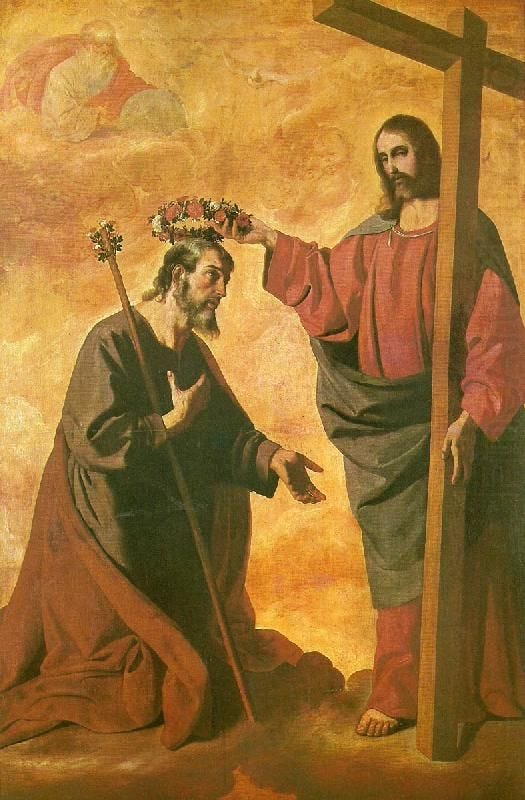 The coronation of St. Joseph by Francisco de Zurbarán, 1640.
---
Those Seven Days
An important reminder from my friend Zak:
---
I think it will be especially important for families to make time for special Sunday observances so that children don't think Mass is the only reason Sundays are special.
---
Constant activity is neither natural nor good for human beings and societies.
---
This is (in part) why we have screens!
---
Please join us:
---
The evil one is opportunistic. This can be a moment for glorifying God, or further capitulating to the Enemy.
---
Tip Jar
---
As for me…
I wrote about the pandemic as a Long Lent for the Scottish Catholic Observer:
The suffering that we may be about to endure will be, on a world-historical scale, relatively minor. For most it will involve adjustments to regular habits of daily life and of consumption. But, in an age of abundance and comfort, to many this will feel like the ground beneath our feet is, for the first time in our lives, unreliable. It may permanently alter perceptions of just how stable our global order really is, and of what is really important.

… While 40 days—roughly ten per cent of the year—is usually enough to unsettle us and refocus us on Christ, in a world of extreme materialism and comfortable self-absorption, something more intense and lasting may be in order. A long Lent may be just what we need.
---
Feedback, &c.
Did I miss something important? Get something wrong? Do you have ideas for how to improve These Seven Days? Drop me a line at tsd.brandonmcg@gmail.com. This is a work in progress, and your feedback will help to make it the best it can be.
And if you enjoyed this, please forward it along to friends. Make sure you subscribe so you don't miss a week of These Seven Days.