TSD 7: Welcome 2.0
Everything else was just practice
Welcome to These Seven Days!
The old-timers know the drill by now: commentary, Ordinary Form, Extraordinary Form, tweets, links, and maybe some self-promotion. Today, though, I'm introducing (and retconning) a numbering system so that the emails stand out better in your inbox. More importantly, TSD is now officially a family affair: This lovely logo was developed and hand drawn by my talented wife in, *taps watch*, about five minutes:
The idea for These Seven Days was simply this: It's hard for busy people to keep up with the liturgical calendar. It's a staple of my conversations with fellow Catholics that we want to order our lives more around the logic of the Church and less around the logic of the world. But then Sunday rolls around before we know it and feast days sneak up on us and every seven days feels just like the last.
Here, then, you'll find information about the readings and the prayers and the saints of the week. But you'll also find art, music, commentary from the rich tradition of the Church, and a prudent dose of my own personality.
My hope is that you'll get as much out of reading this newsletter as I get out of preparing it. It's become a genuine highlight of my week, and I've felt more ready for Sunday and more in-tune with the weekly liturgical narrative since starting it. These Seven Days is meant to be my small contribution to the emerging renaissance of liturgical living in the Church, and I'm so glad you're part of it.
These Seven Days…
…in the Ordinary Form
It is the Fifth Sunday of Easter. The readings are Acts 14:21-27, Revelation 21:1-5a, and John 13:31-33a, 34-35.
The Catholic Encyclopedia entry on the Kingdom of God concludes:
The kingdom of God means, then, the ruling of God in our hearts; it means those principles which separate us off from the kingdom of the world and the devil; it means the benign sway of grace; it means the Church as that Divine institution whereby we may make sure of attaining the spirit of Christ and so win that ultimate kingdom of God Where He reigns without end in "the holy city, the New Jerusalem, coming down out of heaven from God."
The Church Triumphant in heaven, which John saw so vividly, is both a faraway and a totally immanent reality. It is invisible and yet it is the very foundation of the visible universe. And where do we see this more clearly in Scripture than Acts, which the Church brings to us week after week during this season? From this Sunday's selection:
From there they sailed to Antioch, where they had been commended to the grace of God for the work they had now accomplished. And when they arrived, they called the church together and reported what God had done with them and how he had opened the door of faith to the Gentiles.
The Acts stories can be easy to skim, like background narratives in an old novel, but focus for even just a second and they become downright intimidating. The ease, the naturalness with which these men communed with the Lord, knowing with confidence where His grace was leading them, is extraordinary. They didn't just know the heavenly reality of the New Jerusalem in an abstracted, intellectual sense; they felt it in their bones. Let us pray that we might someday bring that heavenly confidence into our world.
Ministry of the Apostles by 17th century icon writer Fyodor Zubov.
---
Monday, May 20, is the feast of St. Bernardine of Siena. This Franciscan friar was one of the most popular and controversial preachers of his day, drawing enormous crowds whom he would whip into frenzies of zeal, sometimes culminating in "bonfires of the vanities," where things like mirrors and extravagant clothes and selfie sticks were burned. He is known today as an early synthesizer of scholastic and modern views of economics, marrying a horror of usury with an appreciation for commerce and entrepreneurship. (He has been claimed as a progenitor of libertarian economists, but this is rather like saying St. Basil was a progenitor of Communists.)
Though Bernardine was Vicar General of the Order of Friars Minor, his most enduring legacy was adopted (stolen?) by the Jesuits: his devotion to the Most Holy Name of Jesus, which he formalized as the IHS Christogram ensconced in a blazing sun.
The IHS, from the first three letters of "Jesus" in Greek, at the Church of the Gesu, mother church of the Society of Jesus, in Rome.
---
Wednesday, May 22, is the feast of St. Rita of Cascia. Rita endured 18 years of cruelty, beginning at age 12, at the hands of her husband, who was eventually murdered in a vendetta. She prayed that her sons would not pursue the vendetta further: "She appealed to Heaven to prevent such a crime on their part, and they were taken away by death, reconciled to God." She ended her life as a faithful Augustinian nun. Rita is a patron of victims of abuse, troubled marriages, and impossible causes.
The reception of her story, like that of St. Maria Goretti, is not uncomplicated in contemporary society. Briefly, it's important to observe that her faithfulness was primarily one of prayer, not strictly one of "sticking it out." That she lived in times when separation would have been ruinous should not be wielded against abused women now, as if leaving or even desiring to leave a wicked man is blameworthy. That would be a perversion of Rita's legacy, one which cuts against the very patronages that have been entrusted to her.
Rita's incorrupt body remains in Cascia.
…in the Extraordinary Form
It is the Fourth Sunday after Easter. The Epistle is James 1:17-21 and the Gospel is John 16:5-14.
St. James delivers a teaching that can be hard in a world where so much seems worthy of anger:
And let every man be swift to hear, but slow to speak, and slow to anger. For the anger of man worketh not the justice of God.
Haydock cites the French Benedictine Antoine Augustin Calmet:
Anger is a short madness. The best cure is to permit it to subside, and to let our reason have time to reflect upon the propriety of doing what we are at first inclined to. The first motions to anger are frequently indeliberate, and consequently not sinful; but we must be careful to resist as soon as we perceive them, lest they should become too violent, and obtain the consent of our will.
While a righteous anger can inspire us to good action, that is the exception rather than the rule. Indeed, on this same verse Haydock cites Augustine: "There was never an angry man that thought his anger unjust."
And what about "a short madness"? What a perfectly concise turn of phrase. The trouble is to recognize it as a) short and b) madness while we're experiencing it.
---
This Sunday's introit is the Cantate Domino, from Psalm 97:
Cantate Domino canticum novum, alleluja: quia mirabilia fecit Dominus, alleluja: ante conspectum gentium revelavit justitiam suam. Alleluja, alleluja, alleluja. Salvabit sibi dextera ejus: et brachium sanctum ejus.

Sing ye to the Lord a new canticle, alleluia, for the Lord hath done wonderful things, alleluia; He hath revealed His justice in the sight of the Gentiles, alleluia, alleluia, alleluia. His right hand, and His holy arm, hath gotten Him the victory.
In his Commentary on the Psalms, also to become a staple of this newsletter, the great hymnwriter John Mason Neale writes of the first verse of Psalm 97:
S. Chrysostom applies [the "new song"] directly to the Church Militant, other Greek Fathers to the two comings of Christ, but the majority agree in taking it of the gradual rise in the heavens of that building of lively stones, made without hands, eternal, the Church Triumphant.
---
I would be terribly remiss if I didn't also mention the tremendous collect:
Deus, qui fidelium mentes unius efficis voluntatis: da populis tuis id amare quod praecipis, id desiderare quod promittis; ut inter mundanas varietates ibi nostra fixa sint corda, ubi vera sunt gaudia. Per Dominum…

O God, Who makest the faithful to be of one mind and will: grant to Thy people to love that which Thou dost command and to desire that which thou dost promise, that amid the changes of the world, our hearts may there be fixed where true joys are to be found.
This is, simply, integrity: Our desires integrated with God's will, so that we can stand fast in tempestuous times.
---
Friday, May 24, is the feast of Our Lady, Help of Christians. This commemoration, as far as I can tell, has never been extended to the universal Church. It remains a Solmnity, however, in "Australasia," which has been dedicated to the care of the Blessed Mother under this title; and this feast was instituted in a special way for Chinese Catholics by Pope Benedict XVI.
This devotion remembers in a special way the aid Mary gives to the Church Militant against her enemies here on earth. Like Our Lady of Victory/Our Lady of the Rosary, there is a connection with the Battle of Lepanto. However, its roots may be traceable to the Patristic era, and its date was fixed not on the basis of a sixteenth-century victory against Islam, but on the basis of Pope Pius VII's triumphant return to Rome after imprisonment by Napoleon.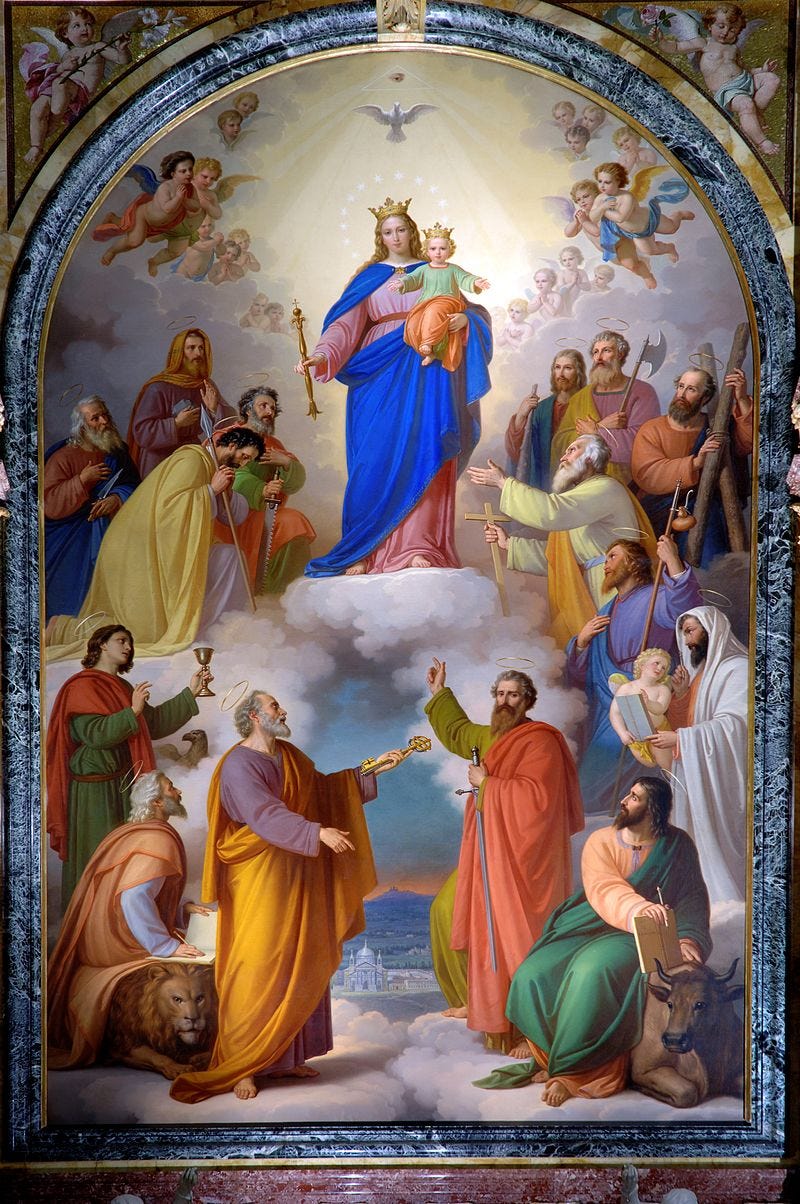 St. Don Bosco had a special devotion to Our Lady, Help of Christians, and dedicated his Salesians to her protection. This image, crowned by Pope Leo XIII, rests in the Salesian mother church in Turin.
---
Those Seven Days…
…in Catholic Twitter
I'm a sucker for hockey/Catholic crossover content:
A diagnosis one would be hard pressed to disagree with:
we live in a society . . . . . . . . . . that rests upon pillars of sterility and usury
Aimee Murphy of Rehumanize International, whom I'm fortunate to be able to call a friend, responds gamely to a challenge about whether pro-lifers actually support moms and babies:
Fr. Brendon lays down the law (literally):
You build a Culture of Life by making actions that build a Culture of Death illegal and punishing people for doing them.
I am so excited for this. A Hidden Life premieres on Sunday at Cannes.
---
…in the Content Mines
Catholic Exchange republished part of an interview with the late exorcist Fr. Gabriele Amorth on demons and wizardry.
In a victory for the Sabbath, the Archdiocese of Detroit is ending youth sports events on Sundays.
Russell Saltzman suggests the Gospel of Mark as a starting point for diving into the Bible.
First Things published an except from photographer Chris Arnade's remarkable new book, Dignity, in which he describes how he came to see not just the utility but, just maybe, the truth of faith.
And Ross Douthat riffs on tradition and rupture—a favorite theme of mine—inspired by Michael Brendan Dougherty's new book, My Father Left Me Ireland.
Feedback, &c.
Did I miss something important? Get something wrong? Do you have ideas for how to improve These Seven Days? Drop me a line at tsd.brandonmcg@gmail.com. This is a work in progress, and your feedback will help to make it the best it can be.
And if you enjoyed this, please forward it along to friends. Make sure you subscribe so you don't miss a week of These Seven Days.