TSD 1: Welcome to These Seven Days
A weekly digest of Catholic liturgy and culture
What is These Seven Days?
These Seven Days is a weekly newsletter by Catholic writer Brandon McGinley that prepares you for the upcoming week in liturgy (in both the Ordinary and Extraordinary Forms of the Roman Rite) and nourishes you with the best in Catholic culture from the previous week. Regular features will include:
Propers and readings for Sunday Mass, with links to commentary from the Church's tradition.

An overview of the Liturgical Calendar for the upcoming week.

Information on the saints and feasts of the week, and ways to celebrate them.

A Twitter roundup of the most informative and entertaining commentary from that infernal website.

Links to the best writing of Catholic interest of the past week.

A space of my own, for whatever catches my eye or is percolating in my brain, as well as information on what I'm up to in Catholic media.
The name for this project is meant to call to mind the Biblical roots of the week, and therefore to remind that these seven days are not arbitrary, but are sanctified through the saving work of the Holy Trinity. Each week represents both the creation and the salvation of the world, with the cycle of work and rest mirroring that of Genesis, and the cycle of penance and celebration mirroring that of Holy Week.
These Seven Days is intended, in some small way, to make that supernatural reality more clearly and tangibly a lived reality for its community of readers—and for me. This is, after all, what we are called to do as Catholics: to make the spiritual reality of divine order and perfection manifest in this fallen world as best we can. With God's grace and through the ministry of the Church, we can bring a taste of heaven to earth.
And so, without further delay:
These Seven Days…
…in the Ordinary Form
It is the Fifth Sunday of Lent. The readings are Isaiah 43:16-21, Philippians 3:8-14, and John 8:1-11.
On this selection from the Gospel of John, in which Christ pardons the adulteress condemned to stoning, St. Augustine writes:
So then our Lord condemned sin, but not the sinner. For did He favor sin, He would have said, "Go, and live as thou wilt: depend on my deliverance: howsoever great thy sins be, it matters not: I will deliver thee from hell, and its tormentors." But He did not say this. Let those attend, who love the Lord's mercy, and fear His truth. "Truly, Gracious and righteous is the Lord." (Ps. 35:7)
Here we see that classic formulation: To condemn the sin, but not the sinner. But notice also the exhortation against presumption. We must not take advantage of His mercy, assuming that it's a free pass.
---
The collect for this Fifth Sunday of Lent reads:
By your help, we beseech you, Lord our God, may we walk eagerly in that same charity with which, out of love for the world, your Son handed himself over to death.
We plow through the collects during Mass, barely hearing them while we anticipate the readings to come or just wrangle children, but they are so often beautiful and packed with meaning. Here, notice the word "eagerly," which adds a layer of cheerfulness onto our obligation to take up our cross like Christ. Who can say he has achieved this level of emotional and spiritual abandonment to His will? I know I can't
---
Monday, April 8, is the feast of St. Julie Billiart (1751-1816), the French foundress of the Sisters of Notre Dame de Namur, dedicated to educating the poor around the world. As with so many saint biographies, there are details that make every Catholic parent feel inadequate:
The childhood of Julie was remarkable; at the age of seven, she knew the catechism by heart, and used to gather her little companions around her to hear them recite it and to explain it to them.
…in the Extraordinary Form
It is Passion Sunday. The Epistle is Hebrews 9:11-15; the Gospel is John 8:46-59.
With regard to Christ's declaration to the Jews that "before Abraham was made, I am," St. Gregory the Great writes:
"Before" is a particle of past time, "am," of present. Divinity has no past or future, but always the present; and therefore He does not say, "Before Abraham was, I was": but, "Before Abraham was, I am": as it is in Exodus (3:14), "I am that I am." Before and after might be said of Abraham with reference to different periods of his life; to be, in the present, is said of the truth only.
St. Gregory mentions two concepts that are eternal: divinity and truth. Truth endures beyond life itself, even the lives of the saints and the prophets—well, their earthly lives. In heaven, truth and life converge; indeed it is a Kingdom of Truth and Life, regnum veritatis et vitae.
---
The famous introit for Passion Sunday is the Judica me from Psalm 42:
Judica me, Deus, et discerne causam meam de gente non sancta: ab homine iniquo et doloso erue me. Quia tu es, Deus, fortitudo mea: quare me repulisti? Et quare tristis incedo, dum affligit me inimicus? Emitte lucem tuam et veritatem tuam: ipsa me deduxerunt, et adduxerunt in montem sanctum tuum, et in tabernacula tua.

Judge me, O God, and distinguish my cause from the nation that is not holy: deliver me from the unjust and deceitful man. For thou art God my strength: why hast thou cast me off? And why do I go sorrowful whilst the enemy afflicteth me? Send forth thy light and thy truth: they have conducted me, and brought me unto thy holy hill, and into thy tabernacles.
This is a prayer of extraordinary trust, that the judgment of the Lord will be just, and that His grace will guide us to His holiness. Here it is in chant:
---
Thursday, April 11, is the feast of Pope St. Leo the Great (c. 400-461), the first pope to be so called. "One of the most important [popes] in the Church's history," according to Pope Benedict XVI, Leo consolidated the primacy of the See of Rome, defined orthodox Christology, and dissuaded (perhaps by supernatural means) Attila the Hun from attacking Rome. In a spectacular Christmas homily, he delivered these words, as relevant now as in the fifth century:
Christian, acknowledge thy dignity, and becoming a partner in the Divine nature, refuse to return to the old baseness by degenerate conduct. Remember the Head and the Body of which thou art a member. Recollect that thou wert rescued from the power of darkness and brought out into God's light and kingdom. By the mystery of Baptism thou wert made the temple of the Holy Ghost: do not put such a denizen to flight from thee by base acts, and subject thyself once more to the devil's thraldom: because thy purchase money is the blood of Christ, because He shall judge thee in truth Who ransomed thee in mercy, who with the Father and the Holy Spirit reigns for ever and ever. Amen.
---
Friday, April 12, is the Feast of the Seven Sorrows of the Blessed Virgin Mary, the object of which is "the spiritual martyrdom of the Mother of God and her compassion with the sufferings of her Divine Son." The Seven Sorrows of Mary are:
The Prophecy of Simeon. (Luke 2:34–35)

The Escape and Flight into Egypt. (Matthew 2:13)

The Loss of the Child Jesus in the Temple of Jerusalem. (Luke 2:43–45)

The Meeting of Mary and Jesus on the Via Dolorosa.

The Crucifixion of Jesus on Mount Calvary. (John 19:25)

The Piercing of the Side of Jesus with a spear, and His Descent from the Cross. (Matthew 27:57–59)

The Burial of Jesus by Joseph of Arimathea. (John 19:40–42)
Albrecht Dürer produced these images of Our Lady's Sorrows, composed of a few episodes different than the traditional seven, in the last years of the fifteenth century, before his thirtieth birthday: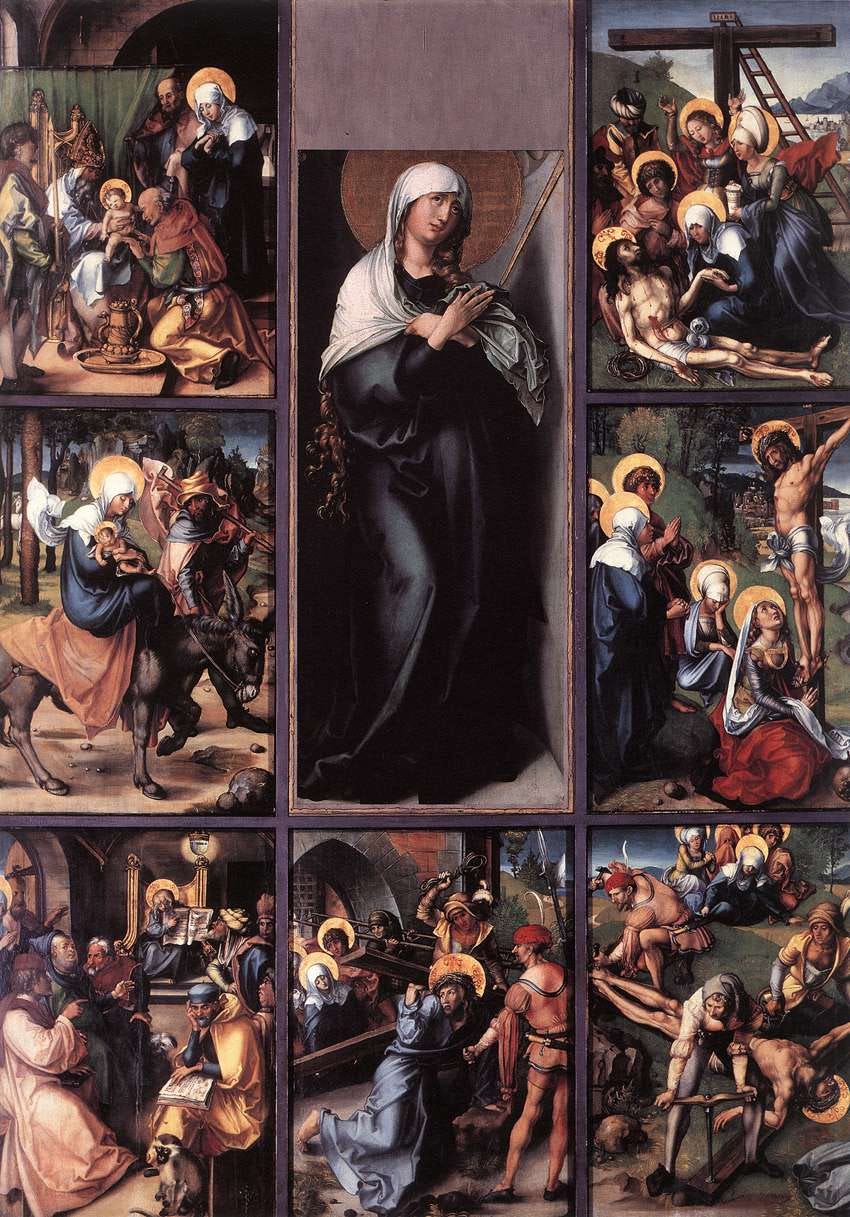 Those Seven Days…
…in Catholic Twitter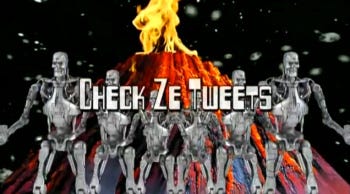 Jeremy McLellan points out there's no need to LARP the Old Covenant when we have the New:
Dr. Josh Madden reminds us that embracing tradition is not the same thing as embracing holiness:
Zach shows us the talent and the reverence that exists, and thrives, behind bars:
Michael Walker finds a strange and delightful news story:
And if you're on Twitter, you can follow me @brandonmcg.
…in the Content Mines
Pater Edmund Waldstein responds to Timothy Troutner's essay on integralism.
Fr. Dominic Bouck of Bismarck, North Dakota, argues that the decline of blue laws has been an anti-poor, anti-worker innovation.
Andrew Cusack sees in the idea of Christian democracy an enduring model for critical engagement with liberalism, even at this late stage.
Maura Roan McKeegan tells us three ways to gain a plenary indulgence before we celebrate Christ's resurrection.
And I was very happy to see Steve Skojec boost this bracing talk by Fr. Chad Ripperger on spiritual problems in the trad movement. This kind of self-examination is extremely important to the spiritual and social health of these communities, and of individual souls.
As for me…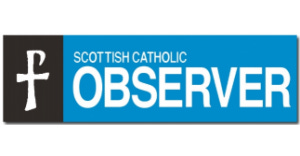 Just today my latest "Letter from Catholic America" was released at the Scottish Catholic Observer. It's about my daydreams of retirement and the inescapable balance of rest and duty, from childhood to old age. Neither is life meant to be constant drudgery, nor should we expect ever to be fully free of our duties to others:
It's beautiful and daunting: while the labor of earning will, hopefully, one day justly cease, the labor of relationships — more important in the heavenly economy even if not so valued in the earthly one — will be with us until our last breath.
---
This month, EWTN Publishing releases Fr. Timothy Gallagher's A Layman's Guide to the Liturgy of the Hours: How the Prayers of the Church Can Change Your Life.
Relying on insights from popes and saints, as well as on his five decades experience praying the Liturgy of the Hours, Fr. Gallagher opens your eyes to this spiritual treasury and shows you how, by means of its sanctifying rhythm, it will help you progress on your spiritual journey. Soon, you will be among the multitude of Catholics who pray the Hours daily and are richly blessed by the flow of graces these prayers yield.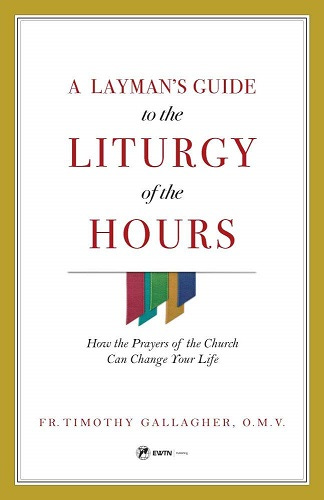 ---
Like what you see here? Curious about my other work? Well too bad: I nuked my website in anticipation of a full redesign in the coming weeks and months. Why did I do that? Beats me. But I did get this image out of the deal:

Feedback, &c.
Did I miss something important? Get something wrong? Do you have ideas for how to improve These Seven Days? Drop me a line at tsd.brandonmcg@gmail.com. This is a work in progress, and your feedback will help to make it the best it can be.
And if you enjoyed this, please forward it along to friends. Make sure you subscribe so you don't miss a week of These Seven Days.