TSD 22: Anglophobia
Angles and Saxons and Jutes, oh my!
This one will be a little truncated today. I've been busy and distracted and not a little exhausted. I covet your prayers for the energy to bring this summer to an enjoyable close for the kids, and to complete all the work that's ahead of me. And on that last point, I expect to have exciting news in the coming weeks.
These Seven Days…
…in the Ordinary Form
It is the Twenty-second Sunday in Ordinary Time. The readings are Sirach 3:17-18, 20, 28-29; Hebrews 12:18-19, 22-24a; and Luke 14:1, 7-14.
This is one of those weeks where the "theme" of the readings is blindingly obvious: In fact it's stated outright in the first verse of the first reading: "My child, conduct your affairs with humility, and you will be loved more than a giver of gifts." The following selection from Hebrews features remarkable imagery demonstrating how unreachable the divine is, how incomprehensible it is to our earth-bound imaginations:
No, you have approached Mount Zion
and the city of the living God, the heavenly Jerusalem,
and countless angels in festal gathering,
and the assembly of the firstborn enrolled in heaven,
and God the judge of all,
and the spirits of the just made perfect,
and Jesus, the mediator of a new covenant,
and the sprinkled blood that speaks more eloquently than that of Abel.
But our response to divine magnificence must not be despair of ever reaching it; rather, it must be growing in the humility to cooperate with God's grace, which is how we actually can encounter the divine. As much as this week is about humility, it's also about anti-Pelagianism! We see this theme consummated in the Gospel: "Rather, when you are invited, go and take the lowest place so that when the host comes to you he may say, 'My friend, move up to a higher position.'" We do not presume to sit at God's table; it is He who invites us, and it's up to us to respond.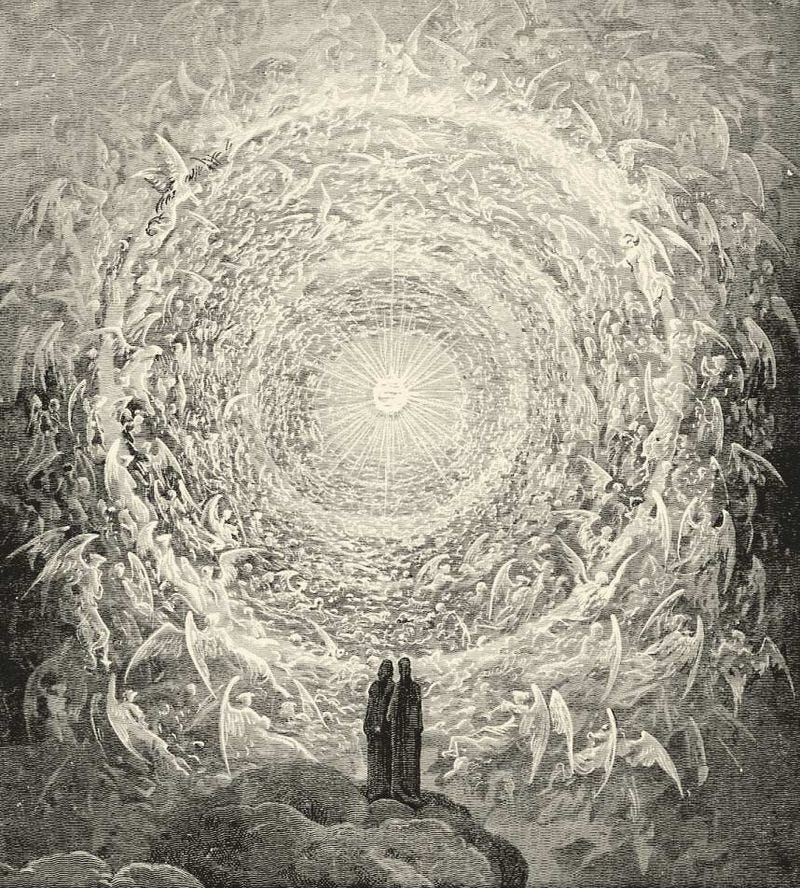 Kudos to Wikipedia: Their featured image for "Heaven" was exactly the kind of overwhelming representation I was looking for. From Gustave Doré's nineteenth-century illustrations for the Divine Comedy.
---
Tuesday, September 3, is the Feast of St. Gregory the Great. This is another one of those impossible to summarize saints. One simple fact underscores how remarkable this man was: He reigned for only 14 years. And yet in that time he initiated the conversion of the Anglo-Saxons (later proven to be a mistake, see below, but he couldn't have known that), established renewed papal authority in Europe, wrote extensively on theology and philosophy and everything else, brought several groups of Arian barbarians back to orthodoxy, and established norms of liturgy and sacred music that remain not just extant but in force to this day. Gregory is of the most interesting men in Christendom, and as always I commend to you the Catholic Encyclopedia entry.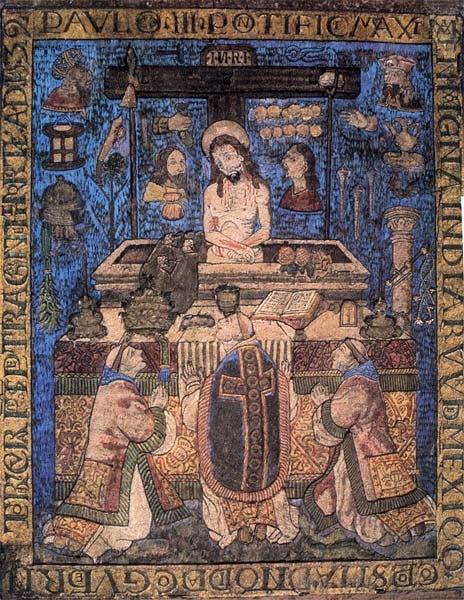 There is an entire genre of art depicting the Mass of St. Gregory, where he is said to have received a vision of the suffering Christ. This, however, may be the most historic. It is a piece of sixteenth century Mexican featherwork by Diego de Alvarado Huanitzin, nephew of the Aztec ruler Montezuma. This noble took the name "Diego" on his baptism, and was later entrusted by the Spanish colonial authorities with the governorship of Tenochtitlan. This is said to be the first work of art produced in New Spain.
---
Thursday, September 5, is the Feast of St. Teresa of Calcutta, one of the most famous women of the twentieth century. Mother Teresa is evidence that, even now, holiness attracts admiration—and scrutiny, often of a peculiarly nihilistic flavor.
Of course we all know now that this holiness was not lightly worn. Teresa's private writings reveal a decades-long dark night of the soul, during which she simply could not feel the consolation of Christ. She had desired that these documents be destroyed, and while I can hardly condone ignoring those wishes, I wonder if their publication will someday be counted as her most enduring legacy, her testament to enduring a suffering of the soul that can be just as withering as suffering of the body.
As for all the criticism of this, that, and the other thing, I'm not terribly interested. Most of it amounted to the observation that Mother Teresa didn't run secular hospitals. I will say, though, that doing a bit of research reminded me of Christopher Hitchens, who's one of those rascals I desperately hope came to his senses and embraced the God he claimed to hate. I'd love to meet him on the other side.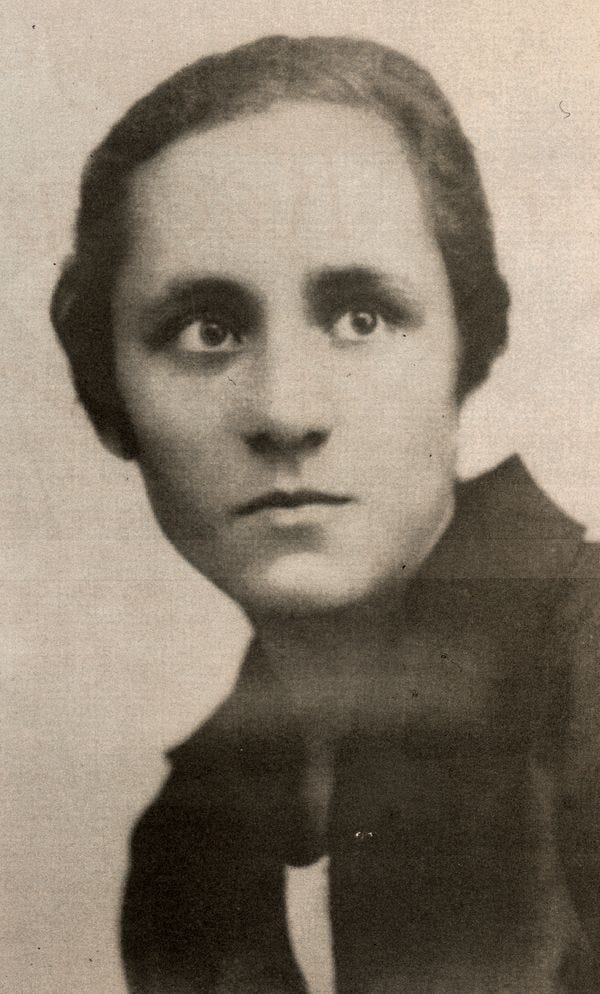 Mother Teresa's given name was Anjezë Gonxhe Bojaxhiu; that first name is a cognate of Agnes. This photo was taken shortly before she entered her novitiate, where she wanted to take the name Thérèse (of Lisieux), but had to settle for the Spanish spelling since the French was taken.
---
…in the Extraordinary Form
It is the Twelfth Sunday after Pentecost. The Epistle is 2 Corinthians 3:4-9 and the Gospel is Luke 10:22-37, the Good Samaritan. We covered this Gospel selection when it appeared in the Ordinary Form in TSD 15, so we'll focus on the Epistle here.
This reading from St. Paul fits nicely with the Ordinary Form's emphasis on anti-Pelagianism.
Such confidence we have, through Christ, towards God. Not that we are sufficient to think any thing of ourselves, as of ourselves: but our sufficiency is from God. Who also hath made us fit ministers of the new testament, not in the letter, but in the spirit. For the letter killeth, but the spirit quickeneth.
Our confidence is not to be placed in our own abilities, but in the grace that elevates and, if we let it, perfects our nature. We cannot fulfill the law of God on our own; it will condemn us. But with the Spirit of Christ, all things are possible.
This reading also militates against the modern error, itself a kind of mirror image of Pelagianism, that regards the law as impossibly difficult and resolves not to cleave to Christ but to undermine and obfuscate and, sometimes, outright condemn the law. This is not compassion but despair. It is not an embracing of mercy but a denial of grace.
---
The introit is the Deus, in adjutorium meum from Psalm 70 (D-R 69), which will be instantly recognizable to anyone who has ever laid eyes on the prayers of a daily office:
Deus, in adjutorum meum intende: Domine, ad adjuvandum me festina: confundantur et revereantur inimici mei, qui quaerunt animam meam. // Avertantur retrorsum, et erubescant: qui cogitant mihi mala. Gloria Patri…

Incline unto my aid, O God: O Lord, make haste to help me: let my enemies be confounded and ashamed, who seek my soul. // Let them be turned backward and blush for shame, who desire evils to me. Glory be to the Father…
In his commentary on the Psalms, John Mason Neale quotes Denys the Carthusian on this first verse's omnipresence in the Church's liturgy:
Great and wonderful is the virtue of the first verse of the present Psalm, wherefore rightly hath our Mother the Church, instructed by the Holy Ghost, appointed that this verse should be recited at the beginning…of each of the Hours, so that, protected by the shield of Divine assistance, we may escape all the snares of the enemy, who plots against us more determinedly, and opposes us more wickedly, when we are engaged in beginning divine service.
This psalm appears in the climactic (and, if I may say, awkwardly shot) scene of Becket, which should remind us that, despite what Americans are taught in school, the English are one of history's great antagonists:
And here's the full introit:
---
Wednesday, September 4, is the Feast of St. Rosalia. Said to have been a descendant of Charlemagne, this twelfth century Sicilian fled to a cave in Mount Pellegrino, north of Palermo, to live out her days in prayer as a hermit. Little is known about her life (since she spent it in a cave), but she became known in the seventeenth century for her intercession to save Palermo from an epidemic of plague in 1624. It is said that she led a man to the cave where her remains rested and instructed him to carry them thrice around the city. The plague abated, and Rosalia has been ever since celebrated at patron of Palermo.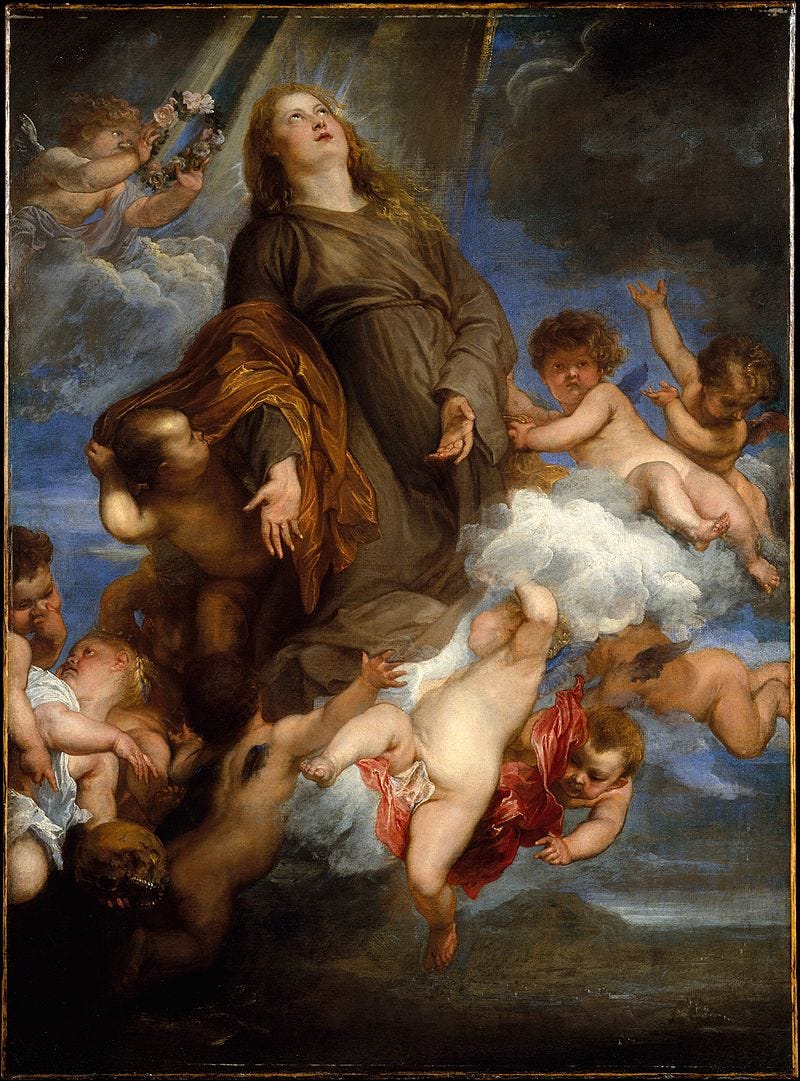 Anthony van Dyck painted this image of the saint interceding for Palermo (seen in background) in 1624, immediately during and after the relief of the city.
---
Those Seven Days
Just a few today…
Fr. Anthony was on a roll this week.
---
This is all I'm going to say about certain scandals that transpired this week.
---
Now, far be it for me to endorse using Catholic imagery for secular purposes, but this is pretty cool—note also the "Be Not Afraid" banner.
---
As for me…
Last week I had a piece of "news analysis" in the Catholic Herald about a moving essay written in the wake of the El Paso mass shooting by Archbishop Jose Gomez of Los Angeles. In the article, I explain how the archbishop sketches a way of thinking about American Catholic identity that avoids the pitfalls of nativism and Americanism:
From the beginning of the American project, the identitarian-contractual understanding of the nation has been used to exclude and persecute Catholics and the institutional Church. The odd English Catholic (such as the Carrolls of Maryland) had it bad enough, but the later waves of Catholic immigrants were almost exclusively from ethnic groups considered unsuited to American-style self-government: Irish, Italian, Slav, and now Latino. The language of invasion and subversion, so prominent in the El Paso shooter's manifesto and in mainstream anti-immigration rhetoric, has been used for more than two centuries against Catholics.

As a result, American Catholics have always lived with a distinctive tension in our religious and political identity. Patriotism – rightly understood as the piety owed to one's country, not a mindless allegiance of "right or wrong" – is a virtue and a religious duty. And yet this country, in its principles, history and ongoing self-understanding, has systematically excluded the Church and her vision for a society based in the authentic virtue of religion.

Archbishop Gómez's analysis shows us a way forward: rediscovering the Catholic roots not so much of American principles – a project that too easily falls into indifferentism and the condemned philosophy of Americanism – but of the land this country has brought under its sovereignty.
---
Tip Jar
I am, as always, much obliged.
---
Feedback, &c.
Did I miss something important? Get something wrong? Do you have ideas for how to improve These Seven Days? Drop me a line at tsd.brandonmcg@gmail.com. This is a work in progress, and your feedback will help to make it the best it can be.
And if you enjoyed this, please forward it along to friends. Make sure you subscribe so you don't miss a week of These Seven Days.